SatoshiBones Overview
Bitcoin dice in itself is truly entertaining. SatoshiBones, however, amplifies the excitement its dice game brings paired with simplicity.
SatoshiBones is not your average Bitcoin dice game. Although it is simple, it still delivers thrilling dice games that are not only unique, but are also carrying tons of winning opportunities.
This betting site is an independent Bitcoin dice platform that is developed by Bitzillions. It made its debut in the Bitcoin gambling niche in 2013, and it accepts Bitcoin, Litecoin, and Dogecoin for its bets. However, it supports the English language only.
SatoshiBones Pros & Cons
Pros
Simple dice game
Numerous winning opportunities
Accepts LTC and DOGE
Clean website
Cons
No live support available
Charges transaction fees
Not available for other languages
Does not accept US players
SatoshiBones Games
Players need to strategically choose from the predefined values of 64, 1024, 4096, 8192, 16384, 24576, 32768, 40960, 49152, 57344, and 61440 because each of these numbers has their own corresponding winning odds and multiplier. By taking a closer look at these values, you will notice that the higher the number is, the bigger the chances of winning but the smaller the payout will be. On the other hand, the smallest number offers the least chances of winning but gives out the largest payouts. Therefore, it is highly advised that you plan ahead if you prefer to have sure wins but with low payouts or to make risky bets that can easily give you loads of bitcoins.
The dice game is straightforward enough for everyone to play, but bettors should not expect to see actual dice just like the case in the majority of Bitcoin dice sites online.
Software Features & Graphics
SatoshiBones offers a seamless Bitcoin gambling interface. In fact, upon visiting its website, you will notice right away an array of numbers along with other values neatly arranged horizontally. Right below this section is the list of previous bets that are complete with information about the bet, roll, transaction ID, result, bet amount, and payout among others. In short, even if you are a novice player, you will definitely have a much easier time going through its interface and making your first bet.
The entire game runs on the software developed in-house, so finding a similar game in the market will be challenging since Bitzillions made it exclusively for this brand.
Account
There is no need to register an account in order to play because this site employs instant, on-chain betting. Players can begin placing their BTC, LTC, or DOGE bets on their preferred choice by directly sending the funds to the wallet address flashed for each of the choices.
SatoshiBones Imagery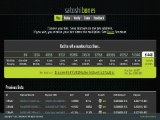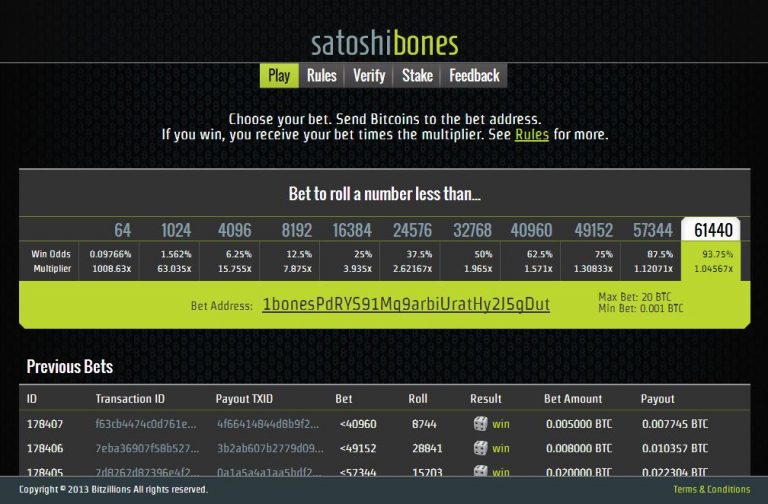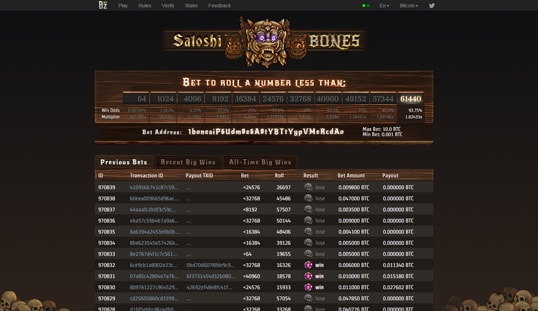 Withdrawal & Deposits
Since the registration process is absent here, there is no need to initiate any deposits or withdrawals. However, there are certain requirements that may be a tad bit of an inconvenience for players. Network fees are a requirement since these fees allow unconfirmed transactions to be processed. A fee of 0.0001 BTC will be deducted from your total winnings per round.
Support
SatoshiBones does not have any live support on their network. However, you can still forward queries, concerns, and feedback by sending them an email. They are also available via Twitter.