Wheel of Satoshi Overview
Wheel of Satoshi is the perfect game for players looking to experience the popular game of Wheel of Fortune but this time paired with Bitcoin perks.
Wheel of Satoshi takes the tried-and-tested formula of Wheel of Fortune and brings it into Bitcoin age. The iGaming site is a great place to bet bitcoins on and delivers a lot in its simple package.
Launched in 2014, Wheel of Satoshi uses internally developed software to run the site that has been developed well through the years. For those with security concerns, the 100% SSL-secured stamp of approval should settle those fears.
Wheel of Satoshi Pros & Cons
Pros
Accepts Bitcoin
Provably fair
Simple game
Easy registration
Cons
Single game
Low maximum bet
Email support only
Still needs polish
Wheel of Satoshi Games
The only game on the site is the Wheel of Satoshi. A player places bets on seven betting segments on the table. Each of these has their own payout, depending on whether or not the wheel stops at them. The highest payout players can receive is the bet amount multiplied by 50.5, while the maximum bet for each segment is set at 0.01 BTC, which can be placed on multiple segments. Moreover, fairness is on the mind of the site's developers, and this is reflected in the provable fairness of the game. With the house edge of as low as 0.96%, this game can surely get the attention of wheel of fortune enthusiasts.
Software Features & Graphics
Wheel of Satoshi has an eye-catchy graphics and design. The betting interface is straightforward and easy to use, which works to the players' advantage. The proprietary software used to power up the site functions well, but it may need to receive future upgrades if the operators want to invite more players, especially those who are regulars in Bitcoin casinos.
Account
Making an account is easy enough. You can drop by the site and just click on the 'play real' button on the link in the upper right. Wheel of Satoshi will then generate a personalized URL and username for you to use when you want to play. You can then keep on playing as is. It would be better, though, to customize your account by clicking on the Profile tab on the top bar of the website. This will give you the chance to set a password and an email for your account to ensure account security.
Wheel of Satoshi Imagery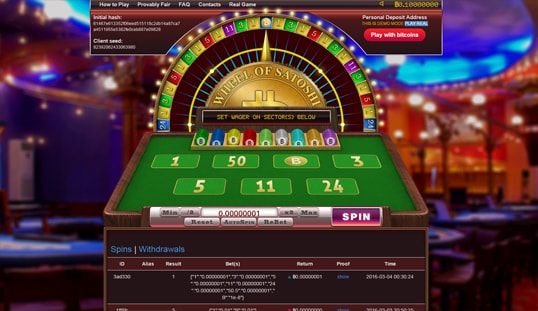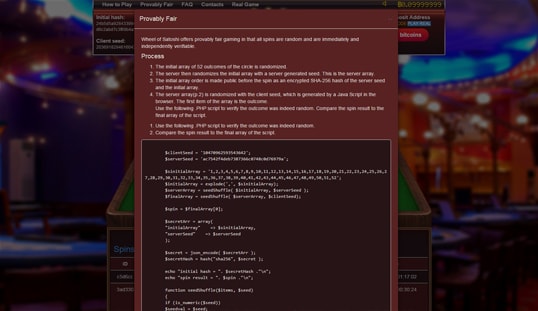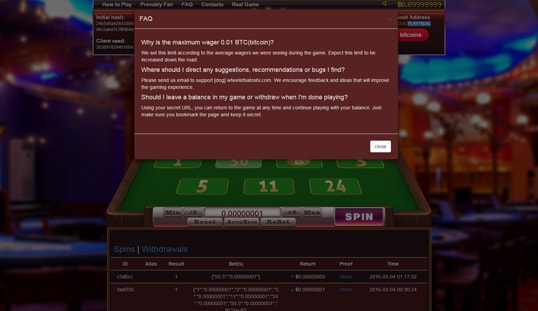 Withdrawals & Deposits
Deposits are made to a personal wallet provided by the game. There are zero confirmations needed so that it is credited automatically. Withdrawals, on the other hand, have a minimum amount of 0.001 BTC while a 0.0001 BTC transaction fee will be deducted from your withdrawal amount. Cashouts also need one confirmation before they are credited and you can withdraw the balance to your wallet any time after your initial deposit has gone through two consecutive confirmations.
Bonuses & Promotions
The game offers no bonuses at all. Players will have to console themselves with the inherent benefits of gambling with Bitcoin.
Support
The game is simple enough that players won't need that much help. For technical problems, though, you will need to send an email to the site owners. They will try to address your concern as quickly as possible.