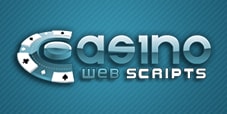 CasinoWebScripts has only started producing casino software solutions for online casinos back in 2010, but the quality of its products already reflects sophistication, expertise, and professionalism—qualities that are normally found in the creations of veteran companies with decades of experience. However, this multinational company has just begun to flourish in the industry of online casino development.
This proves, though, that with a team of dedicated individuals adept at various fields of software development, anything can be achieved. As a matter of fact, in less than six years, this software company has produced more than 150 online single player and multiplayer games with excellent graphics and innovative features. Therefore, this casino software provider is expected to make the Bitcoin gambling industry more interesting with the solutions it will soon unveil.
A striking feature of its casino software is the ability to integrate the platform with Bitcoin, the popular digital currency that is changing the form of online gambling. This feature will be very popular among operators who own Bitcoin gambling sites and who may want to accept bitcoins as a payment method.
In fact, the CasinoWebScripts software is loaded with an array of exceptional features that are guaranteed to provide casino operators and bettors with a more interesting and game-changing experience. It also boasts top-notch qualities that are essential for an online casino to attract more people to wager. After all, more and more individuals become hooked to betting online.
Since there is no contention to the fact that thousands more of online bettors will flock gambling sites in the years to come, regardless of the accepted payment modes, this casino software is, indeed, perfect for casino operators who have a goal of attracting many more players. What is absolutely great about this software is that it is designed to handle capacity of more than 100,000 users. Likewise, it gives operators the power to manage all its players, be it about bonuses, login histories, gameplay statistics, accounts, and many more.
Choosing CasinoWebScripts to power an online gambling site is a wise move because it gives operators complete freedom to adjust certain aspects of the games to meet their site's goals and nature. The flexibility offered by this software includes controlling the jackpot hit frequency, payout rates, and even use different such parameters in both "Play for Real" and "Play for Fun" modes.
Aside from these, this company's casino software guarantees a secure betting environment. It features stringent security measures that are intelligent enough to identify possible threats. Moreover, it has been certified to cover all kinds of web and server vulnerabilities that may damage or hamper the casinos' operations. In addition, it uses a built-in True Random Number Generator that has been certified by iTechLabs in 2014 to ensure that the games are fair and reliable.
Furthermore, CasinoWebScripts designs its software to support several marketing activities like affiliate systems, VIP Point Reward system, newsletter and deposit bonus system among others, which evidently completes the solution it offers to online casinos.
Indeed, this Bitcoin casino software provider ultimately gives the best casino experience both for the casino and the players.
Brands under CasinoWebScripts