The first step in sports betting is to find a sportsbook that fits your needs. There are hundreds of sportsbooks online, and they offer something different to sports bettors. With a lot of choices, it can be confusing on which sportsbook to bet at. There are a few elements to consider.
First, if you're a beginner, go for a site that's user-friendly. A good rule of thumb is if you get confused on how to use the site, then it isn't for you. Some big-name sites often have a friendly interface. Other sites are aimed at experienced bettors so are not as user-friendly.
Second, you'll need to check what the site has to offer. With thousands of sporting events all over the world, some sportsbooks limit the sports events they handle. If you're a soccer fan, you'll want a sportsbook that offers good soccer betting odds.
Finally, you'll want a sportsbook that accepts your bet. Some sportsbooks can be very strict about who they accept. Others are limited to certain regions like Europe or Asia. Other restrictions include banning particular countries from betting. An exception to these restrictions is Bitcoin sportsbooks. They are known for accepting bettors from anywhere.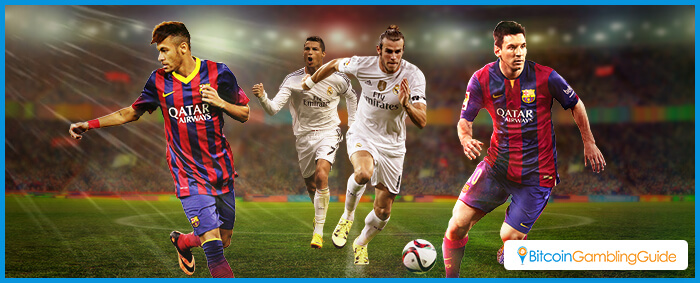 Soccer betting specifics
Once you've settled on a sportsbook and have figured out how to bet on the site, it's time to learn about the soccer betting odds. Different sports have different odds and learning how to read these odds is important. This is because they can affect your winnings. Here's an example of the normal soccer betting line:
Barcelona vs. Arsenal   2.8 / 3.4 / 3.7
The first part is the match-up. For this line, it's a clash between Barcelona and Arsenal. The next three numbers are the odds. Usually, there is guide on top for what the number refers to. The standard order nowadays is the chance of winning for the home team, the chance of winning for the away team, and a chance for a draw.
So using the above example of soccer betting odds, this means Barcelona has 2.8 odds to win, while Arsenal has 3.4 odds to win. Finally, the book makers think that there is a 3.4 chance of a draw. When you bet, you pick one of the odds and place a wager. Putting $10 on the first odds will get you a $28 pay-out if Barcelona beats Arsenal. Place it on the second column and you get $34 if Arsenal wins. A bet on final column means a $37 win when there is a draw.
Other soccer betting odds
That is just for straight single bets. There are other bets available, though they have different odds and are often for more skilled sports bettors. These are the 1X, 2x, and ½ bets. The soccer betting odds for these are usually added to the normal betting line under their own column.
A 1X bet means that you think home team will either win the game or the game will be a draw. A 2X bet means you think the away team will win or the game will be a draw.  A 1/2 bet means that either team will win the game, meaning you think there will not be a draw. This bet usually has the lowest odds since it is pretty likely to happen.