Game Review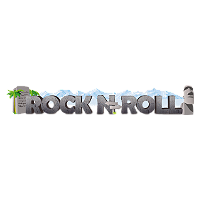 Rock and roll as you convert the stones into golden bitcoins! With just the power of your spin, this is not impossible with Rock N Roll Slots. At first, you may think that this Bitoomba Slots' theme is patterned to 'Rock' as a music genre; however, it is actually a gateway to bring you back into the ancient times of the Stone Age. Hence, brace yourself as the ancient rocks meet the most modern coins that will surely give you a delightful roll, offered of course, by Bitoomba.
Rock N Roll Slots offers an enigmatic ambiance that will certainly envelop you upon entering their domain. With this, you will surely find it hard to turn away without knowing the secrets it hides inside. Hence, get yourself ready as the features and surprises conceal will be examined closely.
The main symbols you must aim for in Rock N Roll Slots are A, K, Q, J; A has the highest points and J with the lowest. Furthermore, there are also lucky symbols you must wish to have such as 3-5 'Scatter' anywhere will start free spins as well as the 3-5 'Bonus' symbols that will sure give you bonus games.
All of these symbols can easily be identified as they have the finest layout designs and graphics. More than that, they are embedded in the coolest and most incredible platform ever. You can instantly have the feel of simplicity yet exciting way life in the Stone Age since it can be played in full-screen and to make it more than authentic, sounds are provided for you to enjoy the rocks in your every roll.
To start the action at Rock N Roll Slots, you have to first register to make an account. Complete anonymity is still a hundred percent guaranteed since the details required are just username and password. The process only takes less than a minute; hence, you can access your account in the easiest and speediest way.
After getting this step done, the next thing for you is to fund your account. There are two ways for you to do this, by sending the amount directly to the wallet address provided or by scanning the QR code shown. After a confirmation is received, your deposit is perfectly accomplished. Also, you must take note that your bitcoins will be instantly converted to 'Bitoombas' or credits since it is easier to comprehend than digits with numerous decimal places. When you are done with this, you are sure ready to rock and roll.
Rock N Roll Slots provides 1 up to 30 lines for you to play and enjoy. For you to have more chances of winning, you must play more lines as possible though it increases your bets with just a relative small amount. More than that, the minimum bet in this game is 0.10 Bitoombas and the maximum is 100 Bitoombas.
All in all, Rock N Roll Slots will certainly rock your Bitcoin gambling world. With all its incredible features and brilliant theme, you will find it hard to let this Bitcoin slots go without giving a roll. Therefore, it is a must to get into the rocks, roll them, for an exciting win!
Where to Play
Bitcoin online gambling is best experienced in a casino that is capable of providing first-class online casino betting; that is why avid bettors in search for a new gambling site to play in will absolutely enjoy their gambling sessions
Related Games
Bitcoin online gambling is best experienced in a casino that is capable of providing first-class online casino betting; that is why avid bettors in search for a new gambling site to play in will absolutely enjoy their gambling sessions