In-Depth Review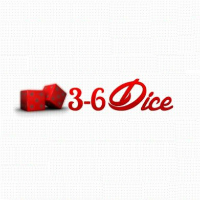 Roll the dice for a nice win! 3-6 Dice, as what its name suggests offers a cool game which is dice. More than that, this bitcoin betting brand emphasizes the fact that they monitor their databases; hence, will 'disqualify any dishonest entries' in their games.
3-6 Dice provides a dice game that can be played from 3 up to 30 games. Moreover, the only payment method accepted here is Bitcoins. Hence, one game in this site costs 0.001 BTC. There are several lucky combinations for you to aim. First is the 3 of a kind which gives you a win 5 times your bet. Next is the 2 of a kind which wins your bet back. Two times six wins twice your bet. And lastly is the three times six which wins 20 times your bet and is considered the jackpot. Also, knowing how to get Bitcoins can be fun because there are a lot of ways to do it. Furthermore, the only language offered in this site is English.
Being built on Javascript, 3-6 Dice has made the entire slot wheel parameters as well as coding visible. It is to ensure that they only use Random numbers for its wheel. Hence, fairness and security can be guaranteed in this site.
For faster and offchain transactions, this Bitcoin gambling brand is integrated with Inputs.io. To start playing, the number one thing for you to do is choose how many games you would want to play. There are five options for you to choose from, 3 games, 5 games, 10 games, 20 games, as well as 30 games. Each game, as mentioned, is worth 0.001 BTC. To deposit, you just have to click the 'Play to pay' button which will bring to Inputs.io. After you have accomplished all the required things, you can now send your desired amount of bitcoins based on the number of games you want to play. Last thing you need to do is 'Check Payment'. This site claimed to confirm payments instantly.
When it comes to graphics, 3-6 Dice offers an average one. The first time you enter their site, you will first notice the plainness with solid white backdrop complemented with red. However, this actually leads to a perk as it made the site appear not complex and easy to understand; hence, leads to the conclusion of providing easy transactions and winnings.
On the other hand, the downside of 3-6 Dice is that it does not provide full information and details about the transactions as well as services they are offering. Aside from the rules and how to deposit, nothing more is given to guide new players on their site. Furthermore, they have not provided a customer support; hence, the customers will not be able to let them know of their concerns, questions, and comments. However, if you wish to ask anything, you can send us an email instead.
All in all, 3-6 Dice is a typical bitcoin betting brand. Sure it provides all the advantages of convenience since it utilizes bitcoins; however, still needs improvement in the aspects of graphics, information, as well as customer support.
Related News
Learn about their latest developments, announcements, and new products in the related news articles below.