In-Depth Review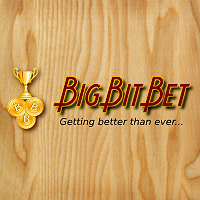 Launched in March 2014, BigBitBet is a 3D horse racing site powered by bitcoins. Given its avant-garde way to play and win Bitcoin, it attracts more and more players from all over the globe to try their topnotch horse race game and enjoy numerous advantages as well as state-of-the-art features. In fact, this site had 1,600 visits on its first day and still, players keep on coming back for more while there are others who are excited to know what this fuss is about.
Simple and Easy Steps to Join the Race
To start playing at BigBitBet, players just have to choose a horse from the 12 options. After, they must pay for their wager by sending bitcoins to the wallet address provided and only bet per transaction is allowed. The maximum bet is 0.01 BTC while the minimum bet is 0.001 BTC. The race starts every 15 minutes and main goal of the player is to bet on the horse that finishes in the first three places to win. What's even better is that everyone has the chance to watch and enjoy the game using the Visitors Free Pass.
Enjoy a 3D Horse Race Game without Downloading
Unlike other horse racing sites online, downloading free software is not needed to play at BigBitBet. The players just have to ensure that their computer has a graphics video card and most recent versions of Google Chrome or Firefox to relish this Bitcoin casino game completely. Given this, players are spared of long waiting times and hassles since they can instantly play and win in just one click of a button. Moreover, the gaming platform is of top-quality with vibrant graphics and cutting-edge features, allowing players to feel the real thrill of watching an actual horse race.
In a Flash and Hassle-Free Deposit and Withdrawal
Payment transactions on this gaming platform are near-instant. Deposits are credited to their account after four network confirmations, so they can immediately give their bankroll a top up to play and have more chances of winning. On the other hand, prizes are paid promptly to the address the deposit is sent from right after the race ends.
Win up to 70% of the Betting Pool
At BigBitBet, prizes are calculated this way. The betting pool pertains to all confirmed tickets minus the 15% fee house edge as house edge. The first place takes 70% of the betting pool, the second place 20%, and the third place 10%.  Of course, the prizes are always divided among the number of winners. However, players who lost on the race have nothing to worry about because they still have the chance to win some bitcoins on the jackpot, which pays every hour.
Provably Fair, BigBitBet is another craze for enthusiasts of Bitcoin gambling. With all the aforesaid features in addition to an incredible way to enjoy bitcoins, this site is definitely worth checking out to relish a remarkable gaming action as well as big payouts.
Related News
Learn about their latest developments, announcements, and new products in the related news articles below.