In-Depth Review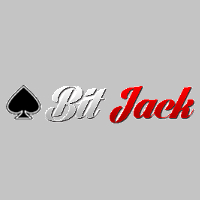 Bit Jack combines simplicity and functionality to create a user-friendly blackjack game that is poised to attract Bitcoin bettors who prefer a minimalist and straightforward approach. Upon visiting the site, it will instantly prompt you to sign in or to create an account as these steps are mandatory.
Designed to offer fast and easy online blackjack gaming, this Bitcoin gambling site features only one game. This fact, however, is not a point against Bit Jack because it highlights the most essential features and services that help betting sites thrive in the online gambling industry.
Simplicity is, indeed, the main factor this website banks on. Unlike the blackjack games featured in most Bitcoin casinos, the one here is stripped off of 3D graphics, rich audio, and eye-catchy animations. This results in a plain Bitcoin blackjack game that uses the actual appeal of the classic game to win the hearts of Bitcoin players online.
This, however, does not make the game mediocre at all, if the gameplay is the topic at hand. It pays winners 3 to 2 and functions just like the normal game of blackjack. However, you only have 600 seconds from starting a game to decide whether to hit or to stand. Once the time runs out, you automatically lose the bet.
In the event you wish to test the game first, simply choose the Free Hand option to be able to play games without placing real bets in Bitcoin. Of course, winning a round will not award payouts because receiving bitcoins is only possible once you have wagered actual bitcoins.
Like the featured game, depositing bitcoins is very simple. A wallet address will be provided, but do not expect to find any QR code. Also, take note of the one required confirmation before the funds are credited to your account. Making a withdrawal, on the other hand, is guaranteed to be as efficient as you wish it to be.
Although Bit Jack is minimalist in almost all aspects, it manages to offer an affiliate program that is incredibly appealing. With the ability to refer as many players as you can, you are also bound to receive 2.5% of the winning payouts of all your referrals. Simply put, a 1 BTC win translates to 0.0375 BTC added to your bankroll instantly.
With a functional side bar on the betting site, you will also have the liberty to monitor at a glance your referrals and the earnings generated from them. Likewise, it is also easy to check your own statistics like the total balance, hands played, and the number of times you have won and lost.
Overall, Bit Jack may not be on the fancy side of online gambling, but it certainly packs the right elements that are capable to make your online blackjack betting rewarding and satisfying. Thus, make sure to play the classic card game here, but ensure that you use winning strategies to have a great time.
Related News
Learn about their latest developments, announcements, and new products in the related news articles below.