In-Depth Review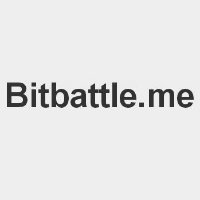 Bitbattle.me is a bitcoin gambling site that offers a fast paced dice game. More than that, it claims to change and add some twists in the game as they offer unique features like permanent individual bet address, individual statistics, fast feedback on every bet made, as well as real time results and live coverage.
As mentioned dice is the only game offered in Bitbattle.me. However, the twist and much exciting part lie in this fact. Usually, dice game is a single player game; however, in this site, they provide two: single player and multiplayer. In single player mode, based on their description, is straightforward. All you need to do is bet on a lucky number and if you win, bitcoins will be transferred to your payout address.  On the other hand, in multiplayer you are allowed to play with other players and it gives you the chances of getting the part of other's win. How?  As simply as the player who takes the higher risk will obtain a part of the opponent whose risk is lesser. But take note that the payout share is just limited to 50%.
Since Bitbattle.me is a Bitcoin gambling site, the only payment method accepted here is bitcoins and English is the only language they are offering. Bitcoins are legal to use; to know more, click here. Furthermore, one of the main features they are offering is that they apply session concept. By this, the number of involved transactions is lessen and this results in less wallet fragmentation, less blockchain bloat, and most importantly, less transaction fees.
To get started, first thing you must do is create a player. Good thing is that each player has its own url, bet address, payout address as well as statistics page. You only need two things to create a player, username and the bitcoin address that you want your payout to be sent to. After that, it's done! You just have to remember your player url. If just in case you forgot the link, you can always search for your account by your username or payout address.
When it comes to graphics, Bitbattle.me's is okay. It's simple and organized. Hence, the players will not find it hard to comprehend the features and information they are trying to convey. In terms of information, they provide good and accurate ones. Every aspect of transactions inside their site is explained well like betting, rules of the game, be it single or multiplayer, how to create an account, as well as frequently asked questions wherein you can find relevant answers that will aid you.
Bitbattle.me is a simple bitcoin dice site. However, what makes it different from the others is the fact that you can play dice together with other players. More than that, they offer complete anonymity, and application of session concept for a better bitcoin dice gambling experience. Want to have the joys of the multiplayer dice game in Bitbattle.me? Read here.
Related News
Learn about their latest developments, announcements, and new products in the related news articles below.