In-Depth Review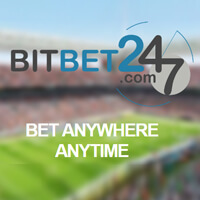 BitBet247 promises round-the-clock online sports betting services to players across the globe. Its operational staff is located in regions with different time zones from each other to ensure 24/7 services, but its server is based in the Netherlands.
Launched in December 2014, this innovative sportsbook only accepts Bitcoin. In fact, one of its missions is to help speed up the promotion and adoption of the digital currency. Despite this, however, the platform is open to the possibilities of integrating altcoins into its system if there is a demand.
This Bitcoin sports betting site truly makes the gambling experience here user-friendly. Aside from using Bitcoin, it also provides players with the easy option and method of switching from mBTC to BTC and back.
Despite the competition in the online gambling industry, BitBet247 braved the challenge of making a name for itself, especially on the Bitcoin sports betting market.
It covers a wide range of sporting events, including football, basketball, tennis, cycling, and racing, among others. Both local and international matches are available, even the minor leagues like the NCAA Basketball. With the odds format of Decimal, Fractional, and American, this sportsbook provides a competitive interface for Bitcoin gambling enthusiasts.
Apart from the other sports hosted on this site, however, there is an option to place bets on financial and politics. This gives a hint that perhaps the website is open to add more services. A Bitcoin casino can possibly join the site soon to deliver non-stop entertainment with its high-quality games.
When it comes to the Bitcoin bets, BitBet247 follows certain rules. For instance, clicking on the odds automatically launches the Quickbet function. This enables for placing a single bet on the chosen sport and match. On the other hand, players can place multiple bets, but this can be done using the bet slip.
The maximum bet that can be wagered depends on the event. In fact, the betting limits vary, but they are indicated clearly on the interface. Limits can be increased upon the approval of the management. Contacting the customer support is needed for this.
Of course, in order to begin wagering on sports, players should deposit funds to their account. This process should only take a few minutes, and the deposit amount must be at least 0.0001 BTC.
All deposit transactions should have at least one confirmation for the cashout requests to be processed. The minimum amount that may be withdrawn is 0.001 BTC that comes with a transaction fee of 0.0001 BTC. Withdrawals are almost instantaneous, except when the amount is large. In this case, players can expect their cashout within 12 hours.
With a convenient banking system, this Bitcoin gambling site absolutely deserves the thumbs up for its security, which covers two-factor authentication, backup protocols, encryption of wallet files, and cold storage use.
Moreover, bettors are also given the anonymity by not requiring them to provide an email address and other personal information.
All in all, BitBet247 absolutely earns a high score as evident with its services and features. Add to these its attractive customer reward system that gives out loyalty points, as well as the two affiliate programs that pay out 40% of the net revenue of the referred clients.
There is so much promise in store for this Bitcoin gambling site that players should keep an eye out for. With continuous maintenance, hands-on customer support, and new offerings, this platform will be a hit on the market.
Related News
Learn about their latest developments, announcements, and new products in the related news articles below.