In-Depth Review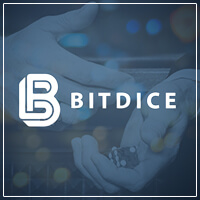 The strong appeal of the Bitcoin dice game continues to rule the online gambling scene, and Bitdice.me emphasizes this even further. Joining the market during the first quarter of 2014, this website now has earned more than 800 BTC via its dice game as of writing, and it continues to increase its profits as more players get enamored to wager digital coins on its platform.
Developed by the same group that brought DogeDice.me to the cryptocurrency betting world, this online gambling venue easily becomes one of the most player-friendly dice sites available today.
It features a clean interface that allows bettors to easily bet on the Hi or Lo options. However, most dice enthusiasts may think that they have already seen the exact game elsewhere, which is normal by the way since this engine resembles that of its sister casinos.
Nevertheless, Bitdice.me provides a complete, convenient betting experience, especially for the reason that it allows players to bet other coins than Bitcoin like Dogecoin, Litecoin, CLAM, and Reddcoin.
When it comes to the actual gameplay, the provably fair dice game—currently in version 3—functions like how a typical Roll Hi Roll Lo game with a 1% house edge would. What makes it unique, though, is that it comes with the automated betting feature that uses the martingale system, thereby making winning faster and easier.
Other than Bitcoin dice, this betting site also offers two classic games like blackjack and roulette. The blackjack game is already functioning, but the roulette one is yet to be released. With the addition of other games on this platform, players can expect better services that will hopefully bring a new kind of online gambling to the table.
In order for you to play dice, blackjack, and roulette in the future, it is a must to have an account. Fortunately, Bitdice.me automatically creates one for you, and there is even an option to edit your profile, protect your account with a password, and even enable two-factor authentication.
A membership to this site entitles everyone to deposit funds and withdraw their winnings or remaining balance in the most efficient manner. It also gives them the opportunity to invest coins in the dice game in order to broaden or maximize the profits they receive on top of the payouts credited to their account.
If you begin betting on this site, it is a guarantee that you will become one of the many happy satisfied customers who frequent the Bitcoin casino games here. After all, apart from the entertainment, this online gambling venue also showers free coins to lucky players via RainBot through the chat box integrated into the website.
Calling Bitdice.me just another dice site may be an understatement since it is filled with various features essential to top-notch online betting. This Bitcoin gambling site has a strong following, a dedicated team of operators, and a platform optimized for mobile betting. Thus, it is simply not just another dice site.
Related News
Learn about their latest developments, announcements, and new products in the related news articles below.