In-Depth Review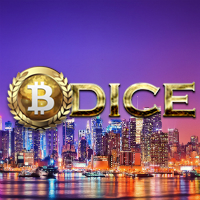 Avid fans of dice games will have one more Bitcoin dice site to play in with the introduction of BitDice. Although somewhat similar to the dice betting sites already available online, this gambling site offers a new experience through the first-class features and services it offers. This is the reason dice aficionados will absolutely enjoy betting with bitcoins at any time of the day. With excellent gaming aspects featured in this Bitcoin dice site, bettors are guaranteed to have a great and rewarding time rolling the dice.
One look at the betting interface of BitDice and players will instantly recognize the familiar game mechanics of playing dice. Although some dice games have veered away from the typical Roll Hi/Roll Lo concept, this gambling site still employs this, especially because more bettors are familiar with this game setup. As such, even novice bettors will definitely find it easier to follow the mechanics.
In this game, players are in charge of their odds of winning and their payouts, where increasing the payout multiplier decreases the probability of winning and decreasing the multiplier results in an increased chance of hitting payouts. Once the desired figures for each aspect have been noted, bettors just need to decide if the rolled dice will yield a lower or higher number than the amount specified by the set parameters. Through this simple game mechanics, bettors are expected to quickly grasp the rules and begin enjoying rolling the dice as many times as their balance permits them to.
With a user-friendly and straightforward betting interface that features an easy-to-play dice game, BitDice has even taken the overall betting experience a notch higher by ensuring the bettors that all its game results are provably fair. The addition of this feature further proves that the fairness of this game is reliable and that there is no possible way for the house to manipulate the results in their favor. As an effect, bettors can be 100% confident that they are not cheated in any way.
Aside from all these, this Bitcoin dice site also features an efficient system of transferring funds. In fact, the steps in depositing bitcoins is so easy because all that is needed is to send BTC to the personal deposit address given by the gambling site or simply scan the QR code shown. Meanwhile, before bettors can receive their withdrawals, their initial deposit must first reach one confirmation. Also, a 0.0001 BTC transaction fee will also be required for the cash out.
Although this Bitcoin dice site does not offer a sign-up or deposit bonus, BitDice puts free bitcoins up for grabs by simply entering the correct captcha code. Claim the free 0.0000002 BTC in order to experience playing the dice game even without making a deposit. With this offer, more players are guaranteed to take full advantage of the perks of playing this popular Bitcoin casino game on this gambling site.
Related News
Learn about their latest developments, announcements, and new products in the related news articles below.