In-Depth Review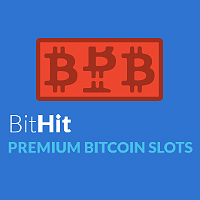 BitHit is an online gambling site that exclusively features an online slot game powered by Bitcoin and Litecoin. It prides itself as a premium Bitcoin slots platform, though, and it showcases simple but effective features and services that are poised to provide a first-rate online slot betting.
Without using the technology designed by software developers in the online and virtual currency gambling markets, this website manages to host its own slot game, which has a 1% house edge and is able to provide excitement that is comparable with  that of the more graphic-intense Bitcoin slots. However, not the same can be said when it comes to the graphics and animations because the BitHit slots is simple but eye-catchy nevertheless.
Moreover, the lone slot game here has five reels and three rows, along with a total of five pay lines. While it already veers away from the traditional slot machines that feature three reels, the symbols it uses are still reminiscent of the latter, with the exception of the Bitcoin symbol.
Joining the Bitcoin symbol are seven more familiar-looking symbols, with the number 7 positioned as the highest paying one at 1000 credits for its five-symbol combination. Thus, if you wish to score more credits, aim to catch at least three 7s on any of your pay line.
Although this online gaming platform may lack the graphic power of most Bitcoin casinos nowadays, it still manages to pull off a user-friendly and aesthetically pleasing betting interface. Additionally, its slot game is provably fair, which makes it all the more attractive and engaging to play.
In fact, the interface is straightforward enough that first-time users will not have any problem in spinning the reels right away. It also manages to provide an Autospin feature, which can be helpful, indeed, if you wish to rake in as many credits as possible without manually clicking the Spin button.
Furthermore, all the important information is available at just a glance. Your remaining balance and amount won, together with the bet amount, are clearly positioned below the slot game. Also, present are the four tabs that show the recent wins, the paytable and rules, the frequently asked questions, and more details about its provably fair technology.
Meanwhile, when it comes to making payments, BitHit ensured that making deposits and requesting for withdrawals will be a breeze. In fact, deposits are processed almost instantly, so expect the balance to be updated within seconds. Also, you can use a converter tool to check how much the value of your BTC and LTC deposits will be when converted to chips.
Withdrawing bitcoins, on the other hand, may take up to 24 hours since all deposits must first go through the whole six block confirmations. Also, you have the freedom to choose LTC or BTC as the withdrawal currency, but expect 1% of the total inputted sum to be deducted for every cash out.
Overall, BitHit stands out among the increasing number of Bitcoin-only platforms; thanks to its great-to-look-at design and interface, as well as its simple and provably fair slot game that is generally popular in the world of Bitcoin gambling.
Related News
Learn about their latest developments, announcements, and new products in the related news articles below.