In-Depth Review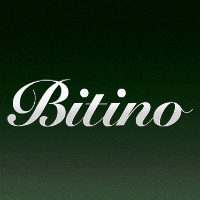 An enigmatic feel will envelop you upon entering Bitino's domain. Nothing much is said about this bitcoin gambling site as they have only provided information about how to play their games, fair gaming, as well as payout table. Aside from that, nothing more can be found in their site.
Bitino offers two Bitcoin casino games. First they have the Hi/Lo Card Game. In this game, the main goal is to predict if the next card will be higher or lower than the previous one. There are 12 cards randomly drawn from 2 decks of cards. You only have two choices in this game, correctly predict all cards or lose your bet. The second game they have is the Over/Under Dice Game. In this game, 2 dice are rolled. Your job is to predict if their total face value will be more than, less than, or equal to seven. Furthermore, this bitcoin site only accepts bitcoins as payment method and offers English as the only language available in their site.
One of the things that Bitino has given a great emphasis is they offer a Provably Fair Gaming; which, according to them, "anyone can immediately and independently verify" that they do not have any control to the orders of the card that's why the games are sure not tampered.
For you to get started at Bitino, the first thing you need to do is send sufficient amounts of bitcoins to the wallet address they will be providing. After that, you can now bet and predict if it's a Hi/Lo or Over/Under. They will provide you an account page where you can see your transaction and game history.
Bitino's graphics is both Hi and Over. The use of green with shades of black as backdrops created a mysterious effect urging the players to discover the features they are offering. More than that, they also offer excellent game platform. Aside from the fact that it seems authentic, the quality of these bitcoin games is also good. They have also provided "watch a game in action" feature to show you how the games actually work.
Probably, the downside of this Bitcoin gambling site is on providing information. As mentioned above, they just focused on details about the games and fair gaming, after that, nothing more. Even instructions on how to deposit or withdraw along with the requirements like minimum and maximum bets are nowhere to be found. A page of frequently asked question could have helped a lot as it will guide novice players to know how transactions inside this site goes, but there is none.
But then, in a larger perspective, it can be compensated with the fact that they offer customer support. However, still it's not enough as you need for couple of hours before you can get an answer.
Bitino is sure to provide easy way to get started, great games, and fair gaming; however, it could have been better if they provided complete information and details. To know more about Bitino ,click here.
Related News
Learn about their latest developments, announcements, and new products in the related news articles below.