In-Depth Review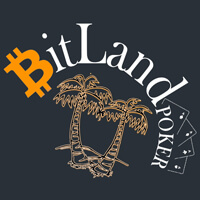 Bitcoin poker rooms continue to double in number as new brands roll out in the market. BitLandPoker is one of the new additions.
Announced in Sept. 2014, this online gambling site promises to become one of the better poker rooms online. However, it is still a mystery when it will be officially launched. News came out that it will become fully operational in November of the same year, but checking its URL still leads to a landing page that only lists its features and other information.
Nevertheless, whatever is written on its website shows its great potential to become one of the lauded Bitcoin poker rooms in the market today.
BitLandPoker will initially run on Bitcoin deposits only during its first phase of operation. Although it is yet to formally show how its performance will translate to everyday use, this platform hints of possible support of other cryptocurrencies. Therefore, the major coins like Litecoin and Dogecoin may be among the accepted altcoins in the future.
Bitcoin bettors who marvel at the idea of player anonymity in this market will appreciate the focus given to confidentiality by this brand. Although accounts are required to play on this platform, players will only need to provide a username and password to begin playing. Unlike in some poker rooms on the web, there is no need to submit or present any kind of documentation.
Another aspect that players will likely appreciate is what the website's developers call their truly own software. Made from scratch, the Bitcoin poker experience is bound to introduce something fresh and unique based from the fact that it will not be using any of the available scripts and software in the market.
On another note, BitLandPoker is determined to entice its players and even attract more. Complementing this online poker room is an aggressive rakeback system. Through this, bettors may earn points termed as BLPPs, which will determine their rakeback. It ranges from 20% to 60%, depending on the accumulated points.
As a matter of fact, it offered those who signed up before December an entitlement to receive a 50% rakeback. This early promo will last for three months and may even grant them a chance to unlock a 0.25 BTC bonus.
Meanwhile, this Bitcoin gambling site reiterates that it will have almost instantaneous deposits and withdrawals. To make it even better, it will not charge any sort of commissions. With the platform still not accessible, these details still leave room for imagination.
Overall, even if BitLandPoker is yet to open its services to players all over the world, it already shows signs that will make it worthy of everyone's attention. The only question now is when this Bitcoin poker room will launch. After all, only until then can the Bitcoin gambling community truly assess what it brings to the table
Related News
Learn about their latest developments, announcements, and new products in the related news articles below.