In-Depth Review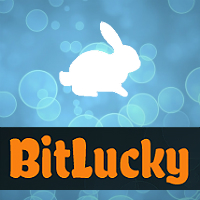 Bitcoin Lottery is one of the fast rising domains in the bitcoin industry. In fact, there are several new kids on the block promising to offer unique and exciting lottery experience with bitcoins. One of the most commendable is BitLucky – a simply fair and easy Bitcoin lottery.
BitLucky offers a bitcoin lottery game that operates like a numerical Bitcoin roulette. Given this, players have the proportional probability to win the jackpot every time they bet. On the other hand, this site highlights numerous features that will make your gaming life exciting and more convenient:
Provably Fair
You can be assured that BitLucky's bitcoin lottery is Provably Fair. All you have to do is click the 'Provably Fair' button in the game. This way, you will see the seeds of the previous round and use this to verify the validity of your game results. In addition, you can change your seed any time to "mess with your luck".
Complete Anonymity
Signing up or making an account is not required at BitLucky. In fact, you only need two things to get started: your wallet address and password. The one and only way to access and enjoy everything that this site offers is your registered wallet. You can definitely secure your balance by simply setting a password.
Getting Started Is Fast and Easy
As mentioned, there is no registration required. To finally get started, you can immediately log in with the address you want to receive your winnings. Even though providing a password is optional, it is advantageous to provide one to ensure the security of your balance. After this, you can now make a deposit by sending your desired amount of bitcoins to the wallet address given. A network confirmation is needed for your funds to be loaded in your account. Lastly, you can place your bets by buying shares from the wheel of probability.
Cool Gaming Platform
In contrast with other bitcoin lottery sites, this bitcoin betting site's gaming platform offer a relaxing yet exciting atmosphere. As a matter of fact, you would find the site user-friendly since the interface is smooth and everything is candid. The rich graphics will sure be one of the things that will entice you to play. No need to worry about the rules and how to play their lottery game. Everything is given and you just have to follow really simple steps.
If you are looking for a good site to play bitcoin lottery, check BitLucky out. While it is true that this Bitcoin gambling site is new, you can be assured of its reliability as numerous players have been satisfied in their experience with the site. Aside from the mentioned advantages, there are more for you to see and discover. Read more about BitLucky here.
Related News
Learn about their latest developments, announcements, and new products in the related news articles below.