In-Depth Review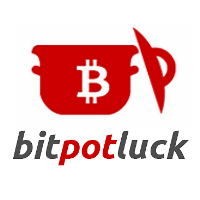 In BitPotLuck, 'the winner takes the pot!' This Bitcoin gambling site offers one unique 'pot game' together with highlights of convenience as the only payment method accepted here is Bitcoin and the only language supported is English.
Playing the only bitcoin game offered in BitPotLuck is plain and simple. All you need to do is buy a ticket which costs 0.001 BTC and you can avail as much as 10 tickets for 0.1 BTC. This will serve as the way for you to put an amount of bitcoins into a pot, which is actually a bitcoin wallet address. Each pot is open for a limited period of time, which usually ranges from 10-minute quick draws up to 24 -hour long draw. Each player is assigned a number/s corresponding to the ticket they have purchased. After the pot is closed, the system will randomly select a number. If your number is selected, you most certainly are the winner. More than that, this site also provides a cool bonus wherein the first two players to get into the pot will get a second ticket for free.
BitPotLuck divides the total amount in the pot in several categories. This brand claimed that they 'graciously accept 3% of the pot as a gift from all the winners.' This way, they will be able to keep this bitcoin betting platform going. On the other hand, 2% of the total pot will remain there and become the starting balance for the next time the pot is used. With this mechanism, the pot increases its size over time. And lastly, the 95 % of the total pot will be sent directly to the winner's Inputs.io wallet almost instantly after the draw is made.
Furthermore, BitPotLuck utilizes Inputs.io wallet which they claimed is 'free and highly secured.' This type of wallet service allows off block chain transactions. With this, all players can contribute to the pot without any transaction fees. You can use this wallet to make deposits and withdrawals 'without restrictions or limits, at any time.' Furthermore, this is also the Bitcoin wallet where you will be receiving your payout, as mentioned above.
Transparency and fairness are also emphasized in the Bitcoin gambling site. They made sure that all the games in their domain are Provably Fair. Hence, anyone can prove that the winning ticket in each of the game is authentic and the real selection based on a mathematical formula. The step by step method on how to determine this aspect is given together with its technical details. Moreover, this site offers a customer support via email for your concerns and comments.
If you are tired with other common bitcoin games offered in other brands, BitPotLuck is certainly for you. With its incredible 'pot game', you will certainly hit the pot if you get the fortunate ticket. More than the winnings, great experience and convenience are also provided in this bitcoin betting site.
Related News
Learn about their latest developments, announcements, and new products in the related news articles below.