In-Depth Review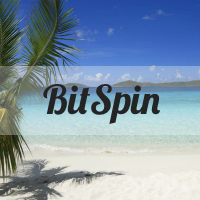 BitSpin is a Bitcoin casino that combines simplicity, entertainment, and loads of chances to win. It currently supports the English language only, and it is designed to exclusively accept bitcoins.
Working with the tagline '#1 in Bitcoin Gaming', this website relies on its three games to give justice to the statement, focusing on the all-time favorites Bitcoin blackjack, roulette, and slots.
Its Bitcoin roulette, one of the two first games hosted on the website, is based on European roulette and has a house edge of 2.7%. Although the roulette wheel is a missing element in the game interface, the roulette game is still fun to play, especially if you prefer the minimalist appearance over the high-graphic ones that tend to have a slower loading time.
The Bitcoin blackjack, on the other hand, pays 3 to 2 and employs the standard blackjack rules. It requires a minimum bet per hand of 0.001 BTC and a maximum bet of 0.1 BTC. It features the trademark design of the Bitcoin casino and is evident throughout the game for a much faster gambling experience.
Meanwhile, its newest game, the Bitcoin slots, complements the overall theme of BitSpin, which is a white sand beach, through its symbols of starfish and sand dollars. A total of five lines across three reels can be played with a maximum bet of 0.1 BTC.
Although these games will only run on bitcoins, you have the option to play for free and without the need to register. By using the playcoins provided by the casino, it has become possible to experience betting on its blackjack and roulette games before wagering real bitcoins.
More importantly, there is no need to download any client just to bet on these games since this Bitcoin casino runs in any web browser, enabling instant play at any time of the day.
BitSpin knows exactly how to make its platform more attractive, and it does it by ensuring everyone that its Bitcoin casino games are provably fair. With this system, the results of its three games can be checked online to see if the house or other parties tamper with the games' functions. Therefore, there is absolutely no reason to doubt or become worried about spending your bitcoins on this gambling website.
When it comes to using bitcoins, ease and convenience are guaranteed. After all, the payment methods have been designed to favor the players. That is why making deposits and requesting for withdrawals are as easy as 1, 2, 3 on this platform.
There are no confirmations and minimum deposit amount required every time you fund your account, but a total of six confirmations of your deposits is needed before you can cash out. Also, the account will be updated within a few minutes only, and the casino will even inform you through an on-screen alert or email.
With all these features working hand in hand, BitSpin manages to provide a holistic gambling experience in a safe and secure environment. Still, it would be preferred if this casino can add more games for more variety and excitement. Nonetheless, playing the Bitcoin slots, roulette, and blackjack on this website is a good way to have fun in betting and winning bitcoins.
Related News
Learn about their latest developments, announcements, and new products in the related news articles below.