In-Depth Review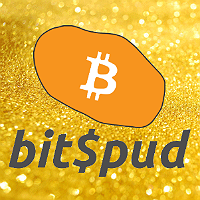 For a fresh and exciting way to enjoy and profit online using bitcoins, it is worth checking out bitSpud. Packaged to be an investment game that accepts both Bitcoin and Litecoin, this website debuted in the online gaming scene in mid-2014 and is based on the concept of the classic game Hot Potato.
Given its nature, it is safe for Bitcoin gambling enthusiasts to expect to not find Bitcoin casino games hosted on this platform. This, however, should not put bitSpud out of the limelight because its game provides an interesting experience that is bound by investment skills and profit-making prowess.
Playing this game should be simple enough for everyone to understand. After all, it practically involves buying a Spud, which becomes your investment, and selling it to a buyer before the time runs out. Once you complete the task, expect profits to be sent directly to your Bitcoin wallet if you wagered bitcoins.
What truly makes this investment game interesting is its simplicity. More, it is absolutely easy and thrilling to play!
There are four Spuds available each for Bitcoin and Litecoin. The Bitcoin Spuds—namely, Super Spud, Baby Spud, Speedy Spud, and Special Spud—offer different prices and profits and follows various times. The same applies to the Litecoin Spuds, which are the Moon Spud, Lite Spud, Lite-Ning Spud, and Specia-ltc Spud.
In order to buy any of this, you must only need to key in your wallet address in the respective boxes. Of course, if you will be using Bitcoin, you are only allowed to buy Bitcoin Spuds, so never make a mistake of entering your address on the Litecoin payment section.
If you are wondering if signing up is required, though, it is not. However, you have the option to provide your name and email address whenever you buy a Spud. Be advised that your email will only be used for payment notifications and nothing else. Still, if you wish to become completely anonymous, just simply disregard that option and buy a Spud and share it on Facebook and Twitter to generate interest among potential buyers.
bitSpud will certainly appeal to you if you fancy making investments. Likewise, if you enjoy the thrills of  Bitcoin Binary Options Trading or Forex, there is a huge possibility that you will easily find success in this game, and by that it means 100% profits for successful sales or 50% consolation prize in the event you failed to sell your Spud at the right time.
Another commendable feature of this platform, aside from its user-friendly interface and interesting game, is that it is designed using the HTML5 technology. This simply means that it will load without any problem in any browser, be it on PCs or mobile devices.
Overall, bitSpud may only be new in the Bitcoin gambling industry, but it definitely has a promising future; thanks to its new and exciting game. However, there is only an email provided on the site for those who have concerns, which means no live chat will seem to be installed. Nevertheless, this brand is active on the Bitcointalk forum, so there should not be any worry about contacting it at all.
Related News
Learn about their latest developments, announcements, and new products in the related news articles below.