In-Depth Review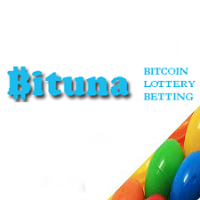 Bituna is another Bitcoin lottery betting site that allows everyone to enjoy and get the chances of hitting a life-changing win. It is more attention-grabbing, though, given the fact that they do not use random number generators to give the winning digits and instead, all the outcomes are based on the official New York and Italian lottery draw results. Claiming that there's no possibility of cheating, this first Bitcoin lotto site based on official lottery results has gathered the public's interest making it one of the bitcoin betting platforms worth checking over.
Getting Started at Bituna
To start playing in this domain, the first thing you have to accomplish is creating an account. All you have to do is click on the 'Register' link and fill out the form with your username, email address, and password. Once done, simply click a button, verify the e-mail address you registered with, and in less than a minute, you already have your account.
Placing your Bets
In this Bitcoin lottery site, bets are placed every hour for the Italian lottery 'Win for Life Classico' and every night for the 'New York Pick 10' lottery. For the former, 10 balls are drawn from a total of 20 and clients can bet up to 10 numbers while for the latter, 20 balls are drawn from a total of 80 and customers can wager on up to 10 digits. Take note that on Bituna, it's not mandatory to deposit in your account to place a bet. On the other hand, if you wish to add some top ups to your balance, you can immediately send bitcoins to address shown.
Winning Big
At Bituna, it is possible to win as much as $100,000 in BTC if you hit the best number combination. What's even better is that it's always possible to place a bet for as low as $0.50. In addition, all the amounts on this site are shown in dollars instead of bitcoins due to the latter's volatility. When it comes to withdrawal, the amount is closely related to the sell market prices on the selected Bitcoin exchanges. Usually, after the liquidation and withdrawal order confirmation, bitcoins are sent in the next 24 hours. If the withdrawals are equal or higher than $500, the process can take from two to seven working days.
Questions about Bituna
While everything seems perfect with this Bitcoin gambling site, there are some questions if it can provide sufficient fund for withdrawals. There are players asking for a proof by giving their public address of the wallets that hold 200+ BTC, which Bituna cleared that they do not hold bitcoins in wallet ready for withdrawal and instead, all withdrawals are realized upon the request of the customers.
Indeed, Bituna is a good Bitcoin lottery site for players who want to make sure that every outcome of their game is fair and valid. However, it also wiser to bear in mind that this is a new betting site, so being careful and wise is necessary to ensure that your small bets can have the best possibility of becoming a massive win.
Related News
Learn about their latest developments, announcements, and new products in the related news articles below.