In-Depth Review
UPDATE: This Bitcoin gambling site, Bitwin, is already closed. But you can check out the Bitwin.com review for the new casino and sportsbook.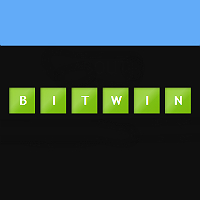 Bitwin is a Bitcoin gambling site that offers a lottery type game. More than that, it utilizes bitcoins in all of its transactions; hence, aside from being the only payment method accepted, it also provides boons such as anonymity and convenience in playing. With this, it is a must to see more of the highlights that this site offers to finally see if it can provide a fine bitcoin lottery experience any player could wish for.
Unlike the typical bitcoin lottery game that other sites provide, wherein purchasing a ticket is necessary, in this game, here in Bitwin the ticket is already provided. All you have to do is guess 7 numbers that you think will be included in the result of the draw. The RNG hardware (Random Number Generator) will pick 7 numbers from 1-80. Your bet will be multiplied based on the count of your correctly guessed number. A table is provided in their site for you to have a better grasp of this aspect.
Good thing about this lottery game that Bitwin offers is the fact that if you choose to guess seven numbers, and you perfectly hit 6, your bet will be multiplied to 100x. On the other hand, if you hit none, you don't have to worry as you will definitely get your bet back.
To experience Bitwin's bitcoin lottery, you must first create an account in just few minutes with no registration required. How is this possible? When you click the 'New Account' button, an URL which will be the key to your account will be created along with a unique bitcoin wallet address. You can send amounts of bitcoins to the address generated. Before the deposit is credited to your account, numbers of confirmation is still needed and it shouldn't take more than 30 minutes.
Bitwin also assured that your bitcoins in their site are safe. They claimed to have taken precautions to keep your bitcoin secured as they have the wallet daemon running on a separate server. But you can also opt to keep it on your own and wouldn't use this site as a permanent bitcoin wallet.
When it comes to game platform, this bitcoin lottery site offers a spectacular one. Aside from it can be viewed in full-screen, the numbers are well-organized and neatly arranged. The color used to emphasize the digits is apple green which makes it appear more interesting and lively without it being too overpowering to the eye. Moreover, if you have questions, concerns, or issues, you can let them know by sending an email.
In conclusion, one can say that Bitwin is a good site for playing Bitcoin lottery. Aside from anonymity and convenience, it offers a cool lottery game with excellent platform that will sure give you great chances of winning big fortunes. Ready to choose your seven lucky numbers? Read more about this Bitcoin gambling site here.
Related News
Learn about their latest developments, announcements, and new products in the related news articles below.