In-Depth Review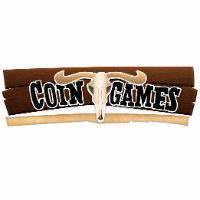 Fun yet challenging – these two words best describes the feel you will have upon entering the domain of Coin Games. This Bitcoin online gambling site is cowboy themed; hence, appeared exciting and enjoyable. More than that, it conveys a brilliant idea of it being an oasis in the desert as you will win great amount of bitcoins but must take risks and take challenges by betting and playing.
Coin Games offers only one interesting bitcoin game, bitcoin cups and balls. In this game there are three inverted glasses, you're your goal is to guess the glass which contains the lucky coin. To bet on the first glass you will choose the red chip, for the second glass is the blue chip, and last but not the least is the third glass with green chip. Furthermore, as stated in their site, this bitcoin gambling site is just new in the market and players must look forward to numerous exciting and unique bitcoin games they will soon offer.
For you to start playing at Coin Games, you just have to click on the chip you want to bet on: there are actually three, red, blue, and green which corresponds to the first, second, and third glasses. After choosing, a bitcoin wallet address will appear and this is where you must send your bitcoins to. Instantly, you will be able to see if you win or lose in their results table. If you win, you will receive your earnings after 1 confirmation of the transaction you did.
When it comes to minimum or maximum bet, good thing there is no such thing as those in this Bitcoin gambling site. Since, as what they have stated, they are still in the testing mode so there is no minimum or maximum bet required. But then, they have advised to make only small bets so you can first see how the game and the transaction works, which is helpful of them.
Coin Games' graphics are also excellent. At first you will think of it as an online gaming site for kids and young at heart and not a bitcoin gambling site. As mentioned, the cowboy concept is actually brilliant as they do not use it only for display and backdrop alone but the bitcoin game they are currently offering and the soon-to-be-ones are also in line with this theme.
In terms of information, this site offers an average one. Yes, they have provided essential information but not that complete. But still, it's enough for a novice player to understand; hence, get started. More than that, they also offer customer support via email or you can even contact them in Twitter.
Coin Games is sure new in the domain of bitcoin gambling, but based on how it looks, it will definitely offer more in the future. Do you want to have a taste of cowboy life while earning bitcoins? Read more about Coin Games here!
Related News
Learn about their latest developments, announcements, and new products in the related news articles below.