In-Depth Review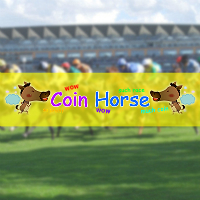 If you think that cryptocurrencies and horse race game sound great, Coin Horse is a good gaming platform for you. Instead of just bitcoins, numerous digital currencies are accepted in this Bitcoin gambling site as payment methods. In fact, you have eight other choices namely Litecoin, Namecoin, Feathercoin, Dogecoin, Worldcoin, Mooncoin, Noblecoin, and Kittehcoin. With array of crypto-currencies to choose from, you can be assured of fast and convenient way to top and win in your games.
Get Started Instantly
Choose your cryptocurrency and make an account – these are the two simple steps you have to get done to get started at Coin Horse. Registration can be accomplished in just few seconds because the details required are just your username and password. In one click, your account will be created.
Easy and Hassle-Free Transactions
Since cryptocurrencies are used, you can expect that sending and receiving payments at Coin Horse are almost instant. The process of funding your account is just the same whatever digital coin you opted to gamble with. All you have to do is send some sums to the wallet address provided or simply scan the QR code shown. Take note that in this site, network confirmation is necessary before your deposit is credited to your account. The number of confirmations needed varies per coin. On the other hand, you are guaranteed that withdrawal process in this site is prompt. However, they collect certain amount of coins for transaction fee.
Unique Horse Race Game
Players must select a team they prefer to join in order to play the game. There are two teams to choose from, A and B. A team is composed of several players who must communicate with each other via the chat feature to come up with some tactics to win the game. Players can help their team to win in two ways, by helping their team's horse or by attacking the opponent's horse using special items. The team who wins the horse race gets the winnings plus refund to the items they purchase.
Fairness Verification
Using Javascript, you will be able to verify the fairness and validity of your game results because Coin Horse provides their secret hashes or keys to everyone who wants to see them. It is true that this fairness verification process is technical, but you don't have to worry because they have provided simple steps on how to do this as well as link to the download verification script file.
Ways to Earn more
Aside from playing, there are two ways for you to earn additional amounts at Coin Horse. First option is to report bugs in their site by letting them know via email. Of course, you have to attach your bitcoin address along with your email because you will be paid based on the seriousness of the bug you found. On the other hand, you can also earn by referring players in this site. You will get a portion of the total money bet of the users you have referred. Bitcoin gambling may just be your calling, know more about it now.
Excited for the most exciting cryptocurrency horse race? Read more about this site.
Related News
Learn about their latest developments, announcements, and new products in the related news articles below.