In-Depth Review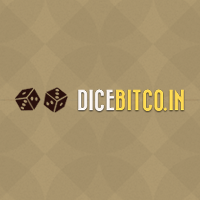 DiceBitco.in is a verifiable dice game launched in July 2014. It exclusively accepts Bitcoin and is, in fact, the Bitcoin variant of the previously released dice game for Litecoin gambling, DiceLiteco.in.
Although it is almost identical to its sister website, this Bitcoin dice has one major feature that is absolutely worth talking about—investment option. You can invest your balance in the bankroll here. Doing so increases the bankroll and the maximum profit per bet, which then implies that it is probable to earn more in this Bitcoin dice game.
This proves to be a success among the Bitcoin bettors since as of writing, about 3000 BTC have already been invested. That is some huge figure considering that the website has not even turned a month yet since its release.
Other than the new option, however, DiceBitco.in looks exactly like its Litecoin counterpart, with a few exceptions: the most notable are the colors used and the lack of a tutorial video.
This simply means that the online dice game hosted on the platform works and looks just the same. This should not be an issue, though. In fact, it is favorable to players since the RobotRoll feature can also be taken advantage by the Bitcoin players. After all, this autospin feature makes the betting experience really easy despite the minor and almost unnoticeable delays in the dice rolls.
With only a 1% house edge, this Bitcoin dice definitely stands among the gambling websites that offer higher payout rates. However, there are already dice games that feature an even lower house edge. Nonetheless, a 1% house edge should already suffice.
Meanwhile, when it comes to the payment methods on this website, the same favorable response will apply. The reason is that withdrawals are now processed instantly. However, this is only the case if the amount to be withdrawn falls within the capacity of the hot wallet.
Cashouts that are beyond the amount stored in the hot wallet will undergo the manual process of verification, and this may take six or eight hours to complete. However, you can still expect it to be delivered to your Bitcoin wallet within an hour. Just remember, though, that a withdrawal fee of 0.0001 BTC is charged on all cashouts.
On a different note, DiceBitco.in looks to be proactive in maintaining a healthy environment and relationship with its customers. It manages two well-updated social media accounts—Facebook and Twitter—and it handles an official thread on Bitcointalk.
Aside from this, its customer support can be reached through the integrated ticketing system or through the chat box that is embedded on the interface next to the game.
If you are a fan of the dice game and are after a complete Bitcoin gambling experience, DiceBitco.in is clearly one of the top choices. Not only does it have excellent features, it also promotes player responsibility and security when it comes to safeguarding their account through password protection and two-factor authentication.
Related News
Learn about their latest developments, announcements, and new products in the related news articles below.