In-Depth Review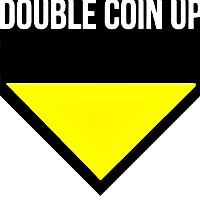 If you are a player who wants to double the coins you play with, Double Coin Up is the place for you. This Bitcoin gambling site offers a cool bitcoin game wherein you are given the opportunity to win an amount twice as your bet.  More than that, this brand offers a unique graphics as by the time you set foot at their domain, you will be welcomed by a huge hour glass wherein all the necessary things you need to know are provided.
In terms of payment method, it only accepts Bitcoins. On the other hand, the only language offered in this site is English. This brand provides a unique bitcoin game wherein winners will be determine by the Bitcoin Network hash which is associated to the player's wager. They take two of the player's hash numbers for any match and use the middle digit from the computation. Digits from 0-7 conveys that earlier player wins and digits from 8-F indicates that later player wins.
When it comes to transparency, Double Coin Up offers a good one. This site provides links of the past bets together with the date and time it occurred. More than that, data about current bets are also provided; hence, easier for the players to verify if the results of the games are valid and fair.
To get started with Double Coin Up, you only need to enter one required field which is your bitcoin payout address. Your name or website can also be provided; however, these two are optional fields. After submitting your payout address, they will be providing a wallet address where you can send your bets. Take note that the minimum bet is 0.01 BTC and the maximum bet is 10 BTC. Your winnings will be sent to the payout address you have provided.
Moreover, Double Coin Up was invented and designed by two programmers who are both from Vancouver, British Columbia. They also claimed to have an access to an 'awesome' page designer which explains the great graphics and concept of their site. The 'hour-glass' concept is actually unique as it made the site appears mind-boggling; hence, interesting. It also affirms the importance of time in this site as to win in the bitcoin game they offer you must place your bet in a lucky moment or time.
Double Coin Up also offers a customer support via email where you are allowed to send your questions, comments, as well as suggestions. Complete information and details about the features they are offering are also provided in their FAQ page.
Double Coin Up is sure to turn your world upside down. With the unique bitcoin game it offers together with tremendous features you will surely have a great experience in this seemingly hour glass Bitcoin gambling site.
Related News
Learn about their latest developments, announcements, and new products in the related news articles below.