In-Depth Review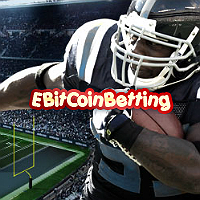 If online sportsbetting is your thing, it is a must to see the highlights of Ebitcoinbetting. It is a Bitcoin sports betting brand that claimed to offer numerous highlights that would definitely attract any bitcoin players' attention. Aside from instant deposits and withdrawals, it offers live support and referral bonuses plus the big fact that they have the 'lowest juice in the business.'
As what its name depicts, Ebitcoinbetting accepts only one payment method which is of course, Bitcoins. On the other hand, in terms of the language offered, English is the only one being supported. Even though these two aspects are seemingly limited, you will be in awe as this Bitcoin gambling site offers good selection of sporting events for you to choose from. It provides Baseball, Soccer, Mixed Martial Arts, Tennis, Golf, as well as Football.
To start your Bitcoin gambling with your favorite sporting event, it is a must to register first. To accomplish this step, you have to provide your username, email, as well as password. Entering the Captcha image correctly is also necessary for obvious reasons. After you have successfully completed this, you will be surprised as you already have an available balance of 5.92 BTC which you can use to wager on any sporting events of your own choosing.
On the other hand, you can also fund your account at Ebitcoinbetting by keeping three things in mind: deposit, place a wager, and definitely win. To deposit, you just have to send amounts of bitcoins to the wallet address they have provided. Three confirmations are needed for your deposits to be available. Usually the process takes around 15-60 minutes just like the withdrawal.
In terms of game platform, Ebitcoinbetting offers a typical one. More than that, unlike other bitcoin sportsbook that provides links that will lead to the platform of the sporting event you preferred, all of the sporting events provided are viewed only in a page. The downside of this is the fact that the details appears crowded; hence, confusing. Also, the names of the teams and players for you to bet on are too small to read clearly. Fortunately, they have used Decimal Odds so the players will get to comprehend the odds easily.
Customer support is also strength of this bitcoin sports betting brand. You can let them know of your questions, comments, or suggestions by using TorChat. They have given the ID for you to access and use it conveniently. On the other hand, their customer support is also available via email.
Overall, Ebitcoinbetting is an average bitcoin sports betting site. It offers fast and easy way to get started, bet anonymously, excellent customer support, and last but definitely not the least is the 5.92 BTC that will be instantly credited to your account upon registration. Want to get sporty and win in this brand? Read here.
Related News
Learn about their latest developments, announcements, and new products in the related news articles below.