In-Depth Review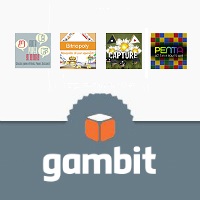 Gambit, in contrast to what others believe, is not anymore novice in the bitcoin betting industry. It is actually the new name and domain of a popular bitcoin gaming platform Bitnopoly. Hence, if you loved playing skill-based game at Bitnopoly before, you will be given numerous reasons to try your hands and enjoy every innovative game and feature this Bitcoin gambling site offers.
State-of-the-Art Skill-Based Games
If you want to take a break from playing games of chance, Gambit is definitely the place for you. In this gaming platform, you will find unique and challenging games that are played using Bitcoin. You will sure feel some rush of adrenaline while you enjoy games like Rock, Paper, and Scissors, Penta, Bitnopoly, Oh Ship! BattleShip Game, Dots & Boxes, Capture, and Backgammon. Each of these games offers distinctive highlights that will suit your varying tastes. In addition, there are more Bitcoin casino games to be added so better keep an eye on their game list.
Multiplayer Gaming Platform
What makes this gaming platform interesting is the fact that you compete against other players in every game to win the buy in pot. A chat feature is offered for you to communicate with other online players. Each game has a clock to ensure that players take their turns in a reasonable amount of time. With an exciting atmosphere like this, you will sure have a taste of real fun and excitement as you battle it out to bring home the buy in pot.
Simple Way to Get Started
There are only three details you have to provide to make an account – username, password, and email address. Once you have successfully created an account, you can definitely make a deposit by sending sums of Bitcoins to the wallet address provided. After a network confirmation, your fund will be credited to your account. Your Bitcoins will be converted to credits or 'BitPoints' since it is easier to use. To start playing, you just have to choose the game you would like to play in the homepage. It will load instantly so you can set your parameters and wait for other players. Once enough players have been found, the game will immediately start.
Receive Free BitPoints
You will have a great reason to start playing at Gambit since you will receive 100 Free BitPoints once you sign up. On the other hand, you are also given the opportunity to earn BitPoints if you win the free games they offer. Every game has a different pot wherein the lowest is 'Dots & Boxes' with 5 and the highest is 'Capture' with 25 BitPoints as the winning pot.
You will never go wrong with Gambit because it offers unique yet rewarding gaming experience. Try your skill and luck at this bitcoin gaming site and who knows? This is the place where you will get big sums of winnings you have been aiming for. Are you ready to play now? Know more about Gambit.
Games Offered
Backgammon
Classic game of backgammon. Game is for 2 players. Decide when to double the pot, or go for a gammon win. First player to bear off all their chips wins.
Capture
A strategy war game where 2 players compete on a battlefield to try and locate the enemy flag. This game is all about choosing good piece locations, remembering your enemies pieces, and outmaneuvering your opponent.
Bitnopoly
Financial cunning is needed in this board game for 2-6 players. Decide which properties to buy, but try and be the first to get a monopoly so you can upgrade your properties and bankrupt your opponents.
Penta
A simple game for 2-4 players. Use the cards your dealt to try and connect 5 in a row in any direction. Use bombs to stop your opponents and hope you get a wild at the right time to complete your Penta.
Rock Paper Scissors
A 2 player best of 7 game of Rock Paper Scissors. Use psychology in this game to predict your opponent's next move and get one step ahead. First to 4 wins.
Oh Ship!
Try and be clever with how you place your ships so your opponent can't predict your pattern. Hunt down and sink your enemy's ships before he gets to yours.
Dots & Boxes
An old game where 2 players draw lines between dots. Draw the last line of a square to win the box. Be sure to win the bonus squares as those are the key to victory.
Description of Gambit:
Gambit is a multiplayer gaming platform where you earn Bit Points by winning games. Every winner is guaranteed a payout in every game. First, choose a game and your game parameters. Second, choose if you want to wager any of your Bit Points on the game. Wagering Bit Points will increase the overall amount of Bit Points in the pot to be won. If no wager is made, then Gambit will donate some Bit Points to the winner of the game. Cashout your Bit Points into Bitcoin any time you like!
Related News
Learn about their latest developments, announcements, and new products in the related news articles below.