In-Depth Review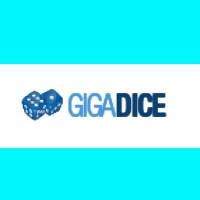 The new way to gamble is at GIGADICE! It is a brand new site that allows clients to wager their bitcoins, as they claimed, 'safely and securely.' It highlights a feature named 'GigaGold', an extraordinary system which gives players the opportunity to cash-out via PayPal, PerfectMoney, Bitcoins as well as Litecoins. Furthermore, the only language supported in this site is English.
GIGADICE offers an excellent transparency and security features. It has claimed that a system of 'Provably Fair' have been enacted to allow the clients to verify if every bets and results of the game are legitimate. More than this, 2FA or 'Two factor authentication' is also added as an optional feature. It permits the players to attach a cellphone number to their account to have maximal security.
To get started with GIGADICE, registration is a must. Any personal credentials are not necessary except for three simple things, your username, email address, password, as well as BTC address. After doing this step completely, you are now allowed to use and buy GigaGold. However, if you do not want to buy and use this feature, you can always opt to bet directly by just sending the amount of bitcoins to the wallet address they have provided.
GigaGold, as mentioned, is the most important feature of this Bitcoin gambling brand. It is considered their exclusive credit card system that enables the players to cash-out via several modes from PerfectMoney and PayPal to Litecoins and Bitcoins. You can also add funds to your GigaGold balance. With this feature, your option of transactions will not be limited to bitcoins as you can opt for other payment methods.
Moreover, this feature allows you to earn more by investing. Through investing, you are given the chance of taking a portion of the site's total bankroll. As an example given in the site, 'if a player invests 1 BTC increasing the site's current bankroll to 10 BTC, the investor certainly owns 10% of the bankroll which means that their investment will grow or drop by 10% depending on the house's profit or lose.
When it comes to the information and details provided in GIGADICE, they offer enough information with regards to their features as well as assisting the players on how to get started. However, when it comes to the particular kind of Bitcoin dice game they are offering, rules are not provided and the 'hows' of playing the games are not given. It could be more helpful if they have provided details with this aspect as it will give the players insights on how exciting and thrilling their offered dice game is.
GIGADICE highlighted their one of a kind feature which is GigaGold, allowing players to cash-out through variety of modes. It also offers fast and easy transactions. However, it still needs to provide more details on the game it provides as this is one of the important aspects players are looking for in a site. Ready to roll the dice big and nice? Try GIGADICE now!
Related News
Learn about their latest developments, announcements, and new products in the related news articles below.