In-Depth Review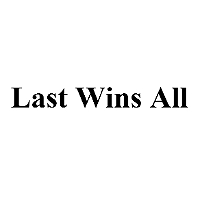 Not all the last always become the least, sometimes they can be the best and at Last Wins All, this is made more than possible. It is a new Bitcoin gambling site that offers 'experimental game with simple rules'. With a fast yet unique game offered this is another gaming platform that can be popular to Bitcoin players.
The Experimental Game with Simple Rules
At Last Wins All, you don't have to know complicated rules and know numerous steps to play the Bitcoin casino game they offer.  This game is far from classic casino games or any betting games we know as it appears more like of a 'bidding process'. The main goal is to have the biggest Bitcoin transaction with the site and it must not exceed within 24 hours. You will get the 99% of Bitcoins deposited in the wallet address provided by having the highest amount of transaction. A new game will start after the payment of the winnings.
How to get started?
Getting started at Last Wins All is just a piece of cake. Registration or signing up is not needed here. To join and play the game, all you have to do is send the amount of Bitcoins you think will be the highest within 24 hours to the wallet address provided. You will see the amount of other transactions made by clicking the blockchain link in the site.
Gaming Platform
Unfortunately, you will never find much information in their site. In fact, the moment you enter their domain, you will doubt if you will continue or not since aside from the rules of the game and link to blockchain, nothing more is given. However, since this is a new Bitcoin betting site, there must be always rooms for improvement.
Is Last Wins All a Scam?
Definitely, this question is too early to answer. But truth to be told, players might find it hard to trust the site since aside from it does not provide enough information, it also does not offer features like Provably Fair Gaming, transparency, or even guarantee that their site are secured and really gives payout to the players. At the moment of writing this review, no complaint or concern has been received against this Bitcoin betting site.
Last Wins All can be a good Bitcoin betting site if viewed solely on the Bitcoin game it offers. However, it may also lead to the downside that only players with higher bankrolls can have good chances of winning. In addition, this site is still too new that it is wiser for you to be cautious in taking a step forward in this domain by testing it first with smaller amount of Bitcoins as well as reading forums to know how the gaming experience of other players went. Want to know more about Last Wins All? Read more about it here.
Related News
Learn about their latest developments, announcements, and new products in the related news articles below.