In-Depth Review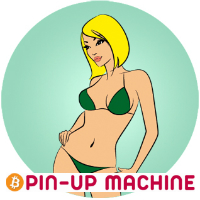 'Make the ladies spin and win bitcoins!' With Pin-Up Machine, those who are too girly or just wanted to put some twist in Bitcoin casino games particularly Slots, have now the best option to spin and win great in a sure feminine way. Created by Ukrainian illustrator Anna Kvach, the pin-up images of gorgeous girls will certainly captivate you to start spinning and most definitely, winning.
Pin-Up Machine is a Bitcoin gambling site that offers a Bitcoin Slot Machine patterned to theme of Pin-Up Girls. In this machine, 10 images are given per reel; hence, without even considering for bonus games, you have the chance to get a pair by 27%, and for triple, 1%. Every 'Pair' can make you earn 1.2 mBTC plus a free game and a 'Triple' wins you marvelous 30 mBTC. Also, in every 10 games you play, and average of 2.7 free games will be given. On the other hand, the main mode of payment accepted here is only Bitcoin and the only language supported is English.
To start with your girly girl spin at Pin-Up Machine, you must first choose the number of games you would want to play. Each game costs 1mBTC and you can opt to play 5, 10, 15, 20, 25, up to 30 games.  To pay for your games, you have two payment options to choose from, Inputs.io as well as Coinbase & Other Wallets. With Inputs.io and Coinbase, there are no transaction fees, instant confirmations, as well as instant payouts. But if you used other wallets, there will be 0.1 mBTC network transaction fees and one confirmation to Coinbase is needed before you can get started.
Pin-Up Machine's graphics and platform are just excellent. Aside from feminine colors used like pink, dazzling images of girls added to the womanly ambiance that the site must convey. Also, the game platform is excellent as it can be played in full-screen with music to get the finest Bitcoin slot experience in this bitcoin gambling site.
Furthermore, Pin-Up Machine is also 'Provably Fair.' Its V2 has been turned into the newest standards of 'Provably Fair' giving nothing but 'Provable results'. In addition, they employ Javascript Smart tool for you to verify your spins. A step by step process on how this feature works is best explained at their site. On the other hand, they can be contacted in case you have questions, concerns, or comments at their active portals on forums like Bitcointalk Forum Thread and Pin-up machine official Forums. You can also let them know of these things via email.
If you want to have a new of playing Slot Machines with bitcoins, it is a must to try Pin-Up Machine. It allows you to play anonymously and conveniently since it utilizes bitcoins. More than that, it offers excellent game platform and 'Provably Fair' highlights. Sure you are excited to try this ever girly and gorgeous slot machine, read more about Pin-Up Machine here.
Related News
Learn about their latest developments, announcements, and new products in the related news articles below.