In-Depth Review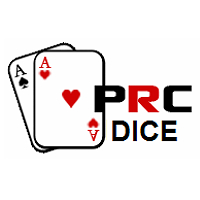 To provide an improved Bitcoin dice gaming experience, Pocket Rockets Casino launched their sister site, PRCDice. It offers a simple yet rewarding dice game and of course, state-of-the-art features, attracting more and more enthusiasts of Bitcoin gambling and dice games to try an enjoyable and profitable way to roll dice with bitcoins and dogecoins.
Players must first register to have a complete access in this site. However, there's nothing to worry about because the process is easy and it takes only a few seconds to get this done. After the account is verified, they can instantly make a deposit to start playing with BTC or Ð. PRCDice offers a smooth and user-friendly gaming interface, allowing players of all levels to manage their game, play, and increase their chances of winning without experience any hassles. What's even better is that there are advanced options available to control the amount of the wager, chance, and payout, so players can easily roll the dice based on their gaming preferences.
PRCDice is also provably fair Bitcoin dice game. They show the client seed, server hash, and other details needed for the players to verify the authenticity of their games and of course, integrity of the winning numbers. The verification process is technical; however, players can do this instantly since they provide a comprehensive step by step method on how to use the 'Provably Fair Dice Verifier'. On the other hand, this dice site offers one of the lowest house edges with only 0.96%. With this, players enjoy the 99.4% as their payouts, making it easier for them to reach sky-high profits.
Furthermore, PRCDice's gaming platform is designed to be mobile-friendly. Players can certainly access their site and play Bitcoin dice in their mobile and android gadgets. There's no need to download or install anything since the domain is accessible through the web browser. A chat feature is also available to interact with other online players or even ask questions to receive an immediate answer.
Another commendable feature of this site is their 'Weekly Leaderboards'. Each week, a seed prize of 0.1 bitcoins and 100,000 dogecoins are added, increasing the leaderboard prizes. Every Saturday at 12 am GMT, the player who claimed the top spot is given the largest share of the prize and runner-ups relish generous secondary prizes. Lastly, it is also possible for the players to be one of this site's investors to earn more.
PRCDice is another dependable gaming platform to play dice with cryptocurrency, particularly bitcoins. Players can also be assured that both deposits and withdrawals are instant; hence, they are spared of long waiting times to enjoy their bitcoins. On the other hand, more features will be revealed sooner than later like Bitcoin faucet, advanced options, and more, so it is important to keep an eye out. They can even catch the best Pocket Rockets Casino rewards. For more information about this site, simply read more here.
Related News
Learn about their latest developments, announcements, and new products in the related news articles below.