In-Depth Review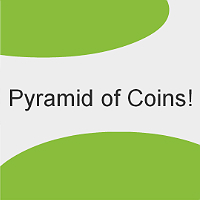 In contrast with what you have in mind, Pyramid of Coins is not a Bitcoin casino or gaming platform that offers games for you to bet your bitcoins on. If you are familiar with the pyramid business models, this is actually how this site works. As what their aim emphasizes, they are into creating 'a simple and transparent platform for people to earn signup referral commission in a predictable and clear way.'
Inspired by another Bitcoin gambling site named Bitcoin Pyramid, Pyramid of Coins claimed to have simplified rules than the latter. The version is simple and linear so everyone can definitely try their hands in this way to earn more bitcoins. There is no random element of luck or chance since you have to be strategic and creative to get the most of this referral commission platform.
Is Pyramid of Coins a Ponzi or Pyramid scheme?
No. This is what they have emphasized separating their Bitcoin gambling platform from pyramiding schemes that are defined as fraudulent business models. They have ensured that there is mystery as to how their platform works since they are working hard to be honest and transparent. Take note that there is a 50 mBTC sign-up fee collected in this site. However, this must be considered more of a service fee than an investment. Given this, returns are not guaranteed in any way and these heavily rely on your ability to get successful referrals.
How to refer people at Pyramid of Coins?
Once you sign up, you will be given a referral address. These addresses are placed in the home page of the site. If people sign up by clicking or following your referral url, you will get a commission. The commissions take a form of a pyramid. You will earn half the commission of the referrer above you for each sign up with a 'maximum depth of 5'. The maximum depth of 5 is the number that allows them to share out the sign-up fee down the pyramid: level 1 with 25 mBTC, Level 2 with 12.5 mBTC, Level 3 with 6.25 mBTC, Level 4 with 3.125 mBTC, and Level 5 with 1.5625 mBTC. Lastly, your payout will be scheduled and sent after a new referral is created.
Indeed, Pyramid of Coins is a great route to profit. In a perspective, you just have to be skillful enough on how to refer more clients in the site to boost your earnings. On the other hand, if compared to bitcoin gaming sites, it is way better because it does not involve luck or any uncontrollable aspect you have to consider. Everything is in your hands so most definitely, you have the control on how much bitcoins you want to earn. At the same time, it is also wiser to take things slowly, but surely with this bitcoin site since it is new in this industry. Know more about Pyramid of Coins here.
Related News
Learn about their latest developments, announcements, and new products in the related news articles below.