In-Depth Review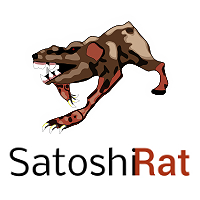 Have the rat that runs the fastest and sure bitcoin winnings are for you! In Satoshi Rat, this is the main goal for every player to earn big. This crypto-currency betting site online offers only bitcoin as its main payment method as well as English as the only language supported. Furthermore, it provides one extraordinary and thrilling bitcoin game that will give you the finest race in your betting life.
Satoshi Rat's game started with a short story wherein you have to imagine that you are a prisoner that has nothing to do all day; hence, together with your fellow prisoners, you decided to catch some rats and train them to run in races. Yes, this site provides a 'Rat race' that will give you chances to earn more and more bitcoins in every level. In each race, your rat will lose some health and will easily get tired; therefore, its speed decreases that will also affect your chances to earn more. As a solution, you must give it a time off so that it will recover in every turn.
No registration is needed to get started with Satoshi Rat. All you need to do is send amounts of bitcoins to the Bitcoin wallet address they have generated or scan the QR code shown. Take note that the amount must be in multiple of 0.01 BTC. Of course, if you send more bitcoins, you can sure play in more rounds. And good thing about this 'Rat race', if you do not want to wait until your rat recover, you can always pay some bribes for it to have full stamina. You just have to add an extra amount of 0.001 BTC. Moreover, also remember that the wallet address you must use can receive payments back; hence, avoid shared wallets.
Game platform offered by Satoshi Rat is average and common. It is a bit small but still, you can see the how race goes as well as details provided like speed and bitcoins won. But it could have been better if it is bigger so the players could really feel the excitement of anticipation as the rats race it out for the top spot. On the other hand, this bitcoin betting site shows its transparency, just like other brands, through the pay-out table it provides that contains details and results of the previous games. Also, if you have comments, suggestions, or bugs found, you can get into them via BitcoinTalk.
Certainly, Satoshi Rat can be considered a good Bitcoin gambling site to those who wanted to have the thrill with its cool bitcoin game. More than that, it also offers convenience and anonymity since it utilizes bitcoins. But still, there are glitches that still need improvement so players can get the most out of this site. So, are you up for a 'Rat race'? Read more about Satoshi Rat here.
Related News
Learn about their latest developments, announcements, and new products in the related news articles below.