In-Depth Review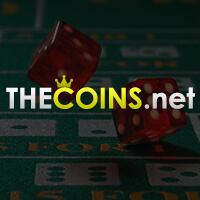 The Bitcoin online casino industry certainly grows each day. One proof of that is the addition of another Bitcoin casino by the name of TheCoins.net. Its inception in 2015 brings a whole new kind of diversity in an industry that continues to boom despite setbacks. That being said, gambling enthusiasts are surely going to love TheCoins.net because just like bitcoins, TheCoins.net and the innovation it promises will prevail. Here are the reasons why this Bitcoin gambling site will soon find its place in the community:
Mobile friendly
Despite being a newbie in the community that already has some top-tier sites competing for the players' attention, TheCoins.net makes it remarkable by offering a mobile friendly platform to all casino enthusiasts out there. This will provide access to any mobile devices and other electronic gadgets (iOS, Android) anywhere, anytime, bringing convenience to the next level.
Anonymity
Though already a pre-requisite for a Bitcoin casino to receive attention and support from players, it still is interestingly great that TheCoins.net can deliver anonymous playing even in its early phase.  If it can bring awesomeness in its initial stage, who knows what more it can bring later on?
Instant deposits and withdrawals
Deposits at TheCoins.net take three confirmations before you can proceed, which is relatively quicker than other sites, making withdrawals faster to be processed, too. Hence, it can be concluded that when it comes to processing deposits and payouts, this Bitcoin gaming site shows exemplary potential.
Games
As of now, there are only three games available: Dice Roller, Spin to Win, and Minesweeper. Despite the lack of games, players can be guaranteed that each of this game is worth more as the level of quality and entertainment each game brings is enough for anyone to have a good time and a good win. Of course, TheCoins.net is just starting out, thus, it should be anticipated that this site will bring more fun stuff sooner or later.
Languages
TheCoins.net supports all players worldwide with various languages available, which include English, Spanish, Russian, Italian, Spanish, Portuguese, French, Turkish, Vietnamese, Indonesian, Japanese, Chinese, and Thai.
Free Bitcoins
Good news for Bitcoin gambling enthusiasts, TheCoins.net offers free bitcoins through their Bitcoin faucet. Not all Bitcoin gaming sites make such offering and it is great that this website can recognize the need to provide not only the best games and features, but also the best deals to players.
Easy Registration and Instant Play
Registering for an account is as easy as coming up with a username, password, and an email address (optional). The simple steps in signing up basically signify anonymous playing. It should also be noted that there are no downloads needed with TheCoins.net as you can play instantly on your browser. TheCoins.net's incredible capability of providing all the mentioned features already says a lot to where it is heading in the future and that is towards greatness.
Related News
Learn about their latest developments, announcements, and new products in the related news articles below.