In-Depth Review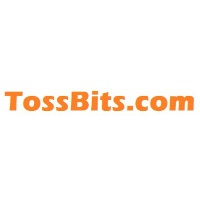 'Toss a coin' can now be played with bitcoins! With TossBit, it is now more than possible to play this game and 'gamble your bitcoins against other players.' More than that, it claimed to be 'Provably Fair', offers a house edge of only 1%, as well as provides its clients playing strategies to win big.
TossBit, just to state the obvious, offers only one game which is 'Toss Coin' or most known as Coin flipping. Also, bitcoin is the only payment method offered and English, on the other hand, is the sole language offered.
Your main objective in this game is to win more and more bitcoins, of course. It has fixed bet amounts from 0.0005 BTC up to 1 BTC. All you have to do is choose your preferred bet size and click on the 'Bet' button. Moreover, your chances of winning or losing is 50% wherein if you win, you will earn half of the bank, and if unfortunately, you lose, all of your bet will go to the bank. Hence, the winnings are not fixed and it varies after every bet.
To start the real thrill of flipping the coin at TossBit, signing up is the first thing you have to do. Just like any other Bitcoin gambling brand, the details needed are just limited to email address and password. After you get done with this, you can eventually start funding your account. All you have to do is send amounts of bitcoins to the wallet address they have provided. And after a confirmation is received, you are more than ready to bet if it is a 'Head' or 'Tail.'
A cool 'Chat' feature is also offered at TossBit. With this, you are given the chance to communicate with other online players and gain insights from their games and most certainly, more strategies. You can also have your comments, concerns, or questions answered here by the admin of this site. Hence, it is very much helpful especially to the novice players who would want to explore more of this bitcoin betting brand.
Transparency and security are also emphasized by TossBit. A payout table is provided so that you can view the results of the previous games as well as transactions. On the other hand, as mentioned above, this brand is 'Provably Fair.' Based on their site, to determine the winning toss, they use the last bit of the hash in the 'concatenated server and client secret.' A full information on 'how hashing and determining the winning bit works' is provided.
In totality, TossBit is a good bitcoin betting site. Though it offers only one bitcoin game, 'Toss a Coin' is sure a unique and cool way to gamble your bitcoins on. Benefits of convenience and total anonymity are also provided in this brand. So, are up for the 'Coin Flip' that will give you a great win? Know more about this Bitcoin gambling site now. Read more about TossBit!
Related News
Learn about their latest developments, announcements, and new products in the related news articles below.