In-Depth Review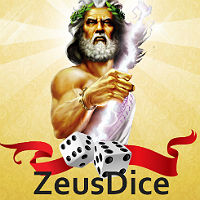 Bitcoin Dice games are fun to roll; however, it will be made more thrilling if great rewards are given as you play. ZeusDice is one of the latest additions to the growing domain of sites that offer Bitcoin dice. Even though it is new, players find this Bitcoin gambling platform nice because of jaw-dropping features it provides.
Get Rewards as you Play
There are two types of rewards offered at ZeusDice. First, is the 'Point System' that works on how much you have wagered. In every bet you made, there will be a corresponding reward point given. The second one is the 'Leaderboard System' that is divided into three parts: the Daily, Weekly, and Monthly Leaderboards. In this reward system, Daily and Weekly top 3 players will be rewarded while in Monthly leaderboard, only one player will be given incentive.
0% House Edge
At first, you might find this highlight too good to be true, but this is the truth. ZeusDice offers 0% house edge to their players. Certainly, if you play with them, you will have good opportunities of earning more by getting successful rolls. As what they have emphasized, 'We don't believe in taking profit from players' profit.'
Bet Refunds
You will be entitled for a bet refund if you get 12 consecutive losing bets. It is necessary for the bets to be 50% or over chance with any amount of bitcoins wagered. It is also important to take note that bets must be of the same percentage chance. If your situation perfectly suited all of these criteria, all of the wagers placed after your 12th consecutive loss that will be repaid.
Instant Deposits
You have two options to get started at ZeusDice, by an anonymous play wherein you just have to log in with your bitcoin address or by making an account which requires your bitcoin address and nickname. Any of these two ways to start playing is fast and easy. After you have successfully logged in, you can definitely make a deposit. Send amounts of bitcoins to the wallet address provided and this will be credited to your account. No network confirmation is needed.
User-friendly and Cleaner Interface
If in other bitcoin dice sites, unorganized group of numbers in the gaming platform confuses you, ZeusDice offers better interface since everything is ordered and arranged neatly. The interface is smooth and easy to use in addition to the fact that the control buttons are candid allowing you to play and win in just few minutes or even seconds.
ZeusDice will sure spice up your bitcoin dice gaming life. With great rewards, 0% house edge, bet refunds, instant deposits, and more, you will have a mighty fine dice game with bitcoins. More good features are promised to be offered sooner, so better stay tuned. Read more about this Bitcoin dice site.
Related News
Learn about their latest developments, announcements, and new products in the related news articles below.