Online Bitcoin poker tournaments have become more accessible as the iGaming industry welcomes more online poker rooms. With the steady rise in popularity of Bitcoin poker, you technically broaden your options and now enjoy the best of both worlds.
Bitcoin poker sites successful adopted the variety of poker tournaments initially available in real-money online poker rooms only. They now provide a bevy of tourneys, satellites, and sit-and-gos for everyone to enjoy. Here are the different Bitcoin poker tournaments you should experience:
What Types of Poker Tournaments are Played with Bitcoin?
Multi-Table Tournaments
If you'll be playing online poker then you'd better not miss playing multi-table tournaments (MTT). These are, after all, considered a standard in online poker, so there's no reason for at least a decent Bitcoin poker room to miss offering MTTs for Texas Holdem, Omaha HI/LO or Omaha HI.
What happens when you play in MTTs is that you're given a stack of chips upon placing a buy-in fee. You're good to play as long as your chips last. Otherwise, it's the end for you. With excellent skills and poker strategy—and a bit of luck too—you will find yourself changing from one table to another as you end up winning while other players bust out.
MTTs are a common offering in Bitcoin poker sites, but make sure to check the schedule to never miss any chances of winning.
Sit & Gos
The idea behind a Sit & Go (SNG) is that you take an available seat at a table and wait for other players to fill all seats. The tournament begins as soon as the last seat is filled.
Unlike MTTs, however, an SNG only runs for one to two tables only. This set-up makes it a perfect choice for new online poker players since an SNG typically gives a taste of a real poker tourney but in a smaller setting.
SNGs are one of the popular tournaments in Bitcoin poker sites and they do get filled in rather quickly. It's fortunate, then, that most poker rooms offer SNGs frequently and can go as quickly as every a few minutes.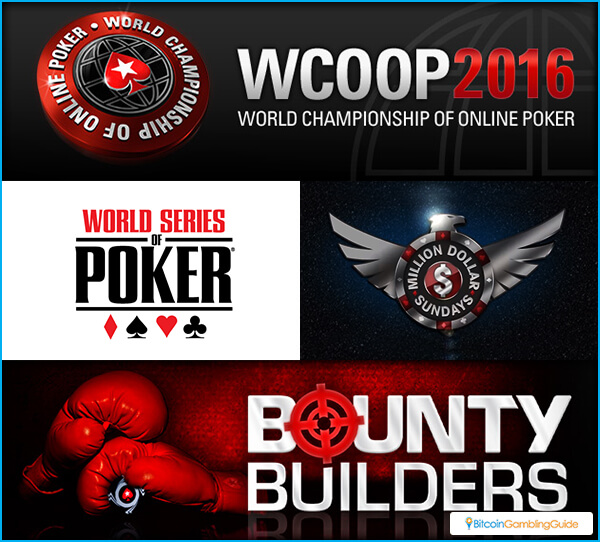 Satellite Tournaments
If you're a patron of the top Bitcoin poker sites like Americas Cardroom, then you'd definitely experienced the several satellites they offer for their promotions.
Satellite tournaments are simply an ordinary poker tournament. But instead of having pot money at stake, the prize is the buy-in to another tournament that offers a much larger prize pool. Think of the annual WSOP. Several online poker sites normally hold satellite tournaments that grant seats to WSOP. The same goes for the other major poker events, whether online or offline.
Weekly Guaranteed Tournaments
These kinds of tournaments have one main feature that get more players hooked: a massive guaranteed prize pool. PokerStars is known for its Sunday Million GTD tourneys, but this site—unfortunately—hasn't fully opened its doors to Bitcoin players. It's absolutely great, then, that Americas Cardroom brought to Bitcoin Gambling the similar set-up through Winning Poker Network.
Million Dollar Sundays are a major hit among Bitcoin players. And with Betcoin.ag sharing the WPN tourneys, it too offers its registered players the chance to join these weekly guaranteed tournaments using bitcoins.
Bounty Tournaments
Expect to find other poker tournaments based on the more common ones like the MTT. Bounty tournaments are a perfect example of this since it it's technically an MTT. What it brings to the table, though, is a prize for busting a player.
Bounty tournaments are an excellent choice for certain players and it definitely adds more fun to playing online poker.
Turbo Tournaments
Another offshoot of MTTs is the turbo tourney, but you'll also find these ones that are more based on SNGs. Turbo tournaments, as the name suggests, offer a fast-paced poker action that requires quick decision-making skills and strategies to knock out other players.