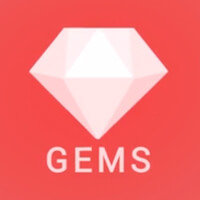 As the functions of cryptocurrencies shift into something more, there have been several ideas about how to make the digital currency platform serve multiple purposes that go beyond the finance and technology sectors. Gems, a new cryptocurrency-based project is one of those ideas that recently came into fruition with the intent to make a significant change in this day and age.
While Bitcoin's revolutionary features allowed the masses to avoid central authorities, Gems wants to do the same, but with a larger focus on social networking. If Bitcoin was able to reclaim currency from the control of traditional institutions, why not do the same for social networks?
Social networks may offer users convenience, but they also enable corporations to mine user data, which in turn, bring them stupendous profits. To make it worse, the government can even use such networks to spy on people. Gems can put a stop to this debauchery.
Furthermore, Gems is also created to bring Bitcoin closer to the masses. Bitcoin may be groundbreaking, but its mainstream adoption remains lacking in intensity due to its technicalities, which can be intimidating, especially to newbies. To address this issue, Gems wants to establish a much easier Bitcoin transaction procedures, something that even a child can do successfully with ease. With these goals in mind, the company extensively designed Gems social messaging app.
Registering for a Gems account is quick and easy. It should not take more than 10 seconds and can be done through a smartphone and other electronic devices. This alternative cryptocurrency is also built to reward users for inviting their friends. Anyone using the Gems application receives tokens for making invitations, which results to further network utilization and establishment of a more stable ecosystem.
Since Gems is built on top of the Bitcoin blockchain, sending and receiving gems and bitcoins between users is conveniently easy and because its success is associated with Bitcoin's success, Gems appeals to a larger audience as well, which is deemed essentially crucial to launch a different kind of cryptocurrency.
Moreover, Gems tokens function as the in-app currency, which can be used by the advertisers in paying the users. In this sense, in-app advertisements become a sharing economy model that will experience further growth as the network continues to grow prolifically. When this happens, Gems can also serve as the payment option for any value added features available in the apps.