Even a series of distributed denial of service (DDoS) attacks could not stop Americas Cardroom from hosting the fourth Million Dollar Sundays tournament.
Reports surfaced that the online poker site began to experience the attacks Sunday morning, which disrupted the highly anticipated event.
According to Americas Cardroom CEO Phil Nagy, the DDoS attacks created a massive overlay that yields a $300,000 loss on their part. This, however, did not push the poker room to cancel the event, which was not the case after the same instance happened the first time Americas Cardroom launched the said tourney.
A notice on their website read:
"We are under a massive DDoS attack. Our DDoS Mitigation Company is doing a great job at controlling it, but we may continue to experience 30-60 second downtimes which will cause us to pause our tournaments for between 5-10 minutes to let all players reconnect before resuming. We sincerely apologize for any inconvenience."
Despite the minor interruptions in between rounds, numerous online poker enthusiasts consisting of both fiat and Bitcoin players joined this month's installment of the $1 million GTD tournament.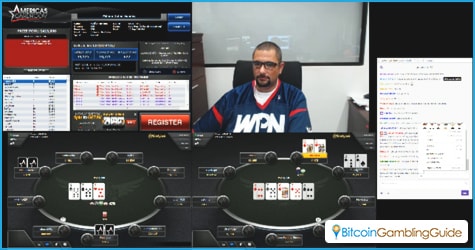 'You can't give into terrorism'
Broadcasting live on Twitch Sunday afternoon, Nagy discussed the attack Americas Cardroom was under, which was responsible from preventing a large number of players from entering the tournament scheduled at 3 p.m.
He did not say who the attacks were from, but he disclosed that the organization or individual behind it were seeking Bitcoin in exchange for the attacks to stop. No Bitcoin ransom, however, was paid, and Nagy even expressed his intolerance of cyber terrorism, saying that succumbing to such demands is not an option:
"Once you open that door and start paying these guys, it just never stops. It's the reality. Call it stubborn, but you can't give into terrorism like that in my opinion."
While no names have been dropped regarding the attacks lunged at Americas Cardroom, Nagy was careful to consider competitors or simply hackers to be among the perpetrators. He also mentioned on Twitch that they were receiving huge traffic from China, Korea, and Russia.
Million Dollars Sundays remains a hit
The high-paying event marked the beginning of the online poker site's record-breaking $5 million GTD Million Dollar Sundays scheduled all throughout next month.
With the latest promotion, players of fiat and Bitcoin poker have the four opportunities to rake in large shares of the pot as Americas Cardroom will host a $1 million GTD tournament on Oct. 4, 11, 18, and 25.
The same situation, however, can be expected on the following dates of the said tournaments, especially with the recent DDoS attacks on Americas Cardroom. Nevertheless, the dedication of this poker room shown amid yesterday's attacks exhibits its strength in withstanding cyber threats and in running high-caliber events like the Million Dollar Sundays without putting its customers at grave risks.