Choosing the right affiliate marketing program can be a confusing process. There are a lot of competing programs out there. Each has their own advantages and disadvantages. However, one of the factors that potential affiliates should seriously consider is whether an affiliate program will be profitable for a member.
The profitability of an affiliate program depends on several factors. This includes whether the site being promoted is accessible, has high popularity, and has the potential to ensure high player retention. Moreover, there is an additional factor that Bitcoin gamblers will want to consider. This is whether they pay out in Bitcoin or in fiat currency.
Being paid in bitcoins is often better since there is no need wait for processing times nor to pay transaction fees. Here are two Bitcoin affiliate programs that should catch people's eyes in the Bitcoin gambling sector: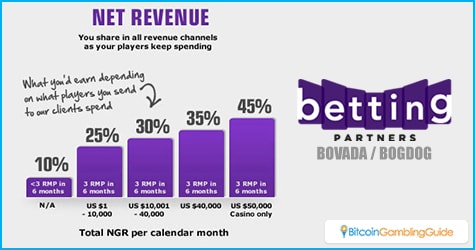 Betting Partners
First, there is the Betting Partners Network. The affiliate network is very impressive and has several of the most popular online casinos on its program. This includes online gaming sites like Bovada, Bodog, Ignition Casino, and more. All of the sites in the network are top-rated ones, making them a sure money-maker for those who join the affiliate network.
The main driver behind a successful affiliate marketing programs is the ability to convert visitors into regular players. When this happens, it gives affiliate partners a regular revenue stream. With the excellent games and services of the sites on the Betting Partners network, agents can be assured that they will have a solid foundation to build their efforts on.
It is not just the ability to retain visitors. Affiliate networks should be able to support their affiliates properly. This comes in the form of material support like giving affiliates access to pre-made banners and advertising material. In addition, solid marketing data provided by the network also makes the affiliate partners' life easier. The network also helps by providing on-call support from dedicated account managers who can help improve affiliate marketing efforts.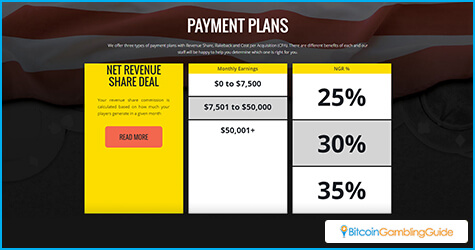 Winning Poker Network Affiliates
Another affiliate network that pays in Bitcoin is the Winning Poker Network Affiliates. Formed in 2001, it focuses on a single market, which is the online poker scene. With noted products like Americas Cardroom, the WPN Affiliates program is sure to attract and keep poker fans to their site.
Similar to the Betting Partners network, this affiliate program is very kind to its affiliates. Solid support and advice are provided, while the many partner brands offer great gameplay. In addition, WPN also offers cross-site tournaments to further increase player recruitment and retention.
Bitcoin was recently adopted as a payment method and that should please many because of the speedy transactions. Any Bitcoin gambler hoping to earn some spare bitcoins should seriously consider trying to join the affiliate programs of Betting Partners and WPN Affiliates. Even a minor effort is sure to reap them great rewards.