There are a number of online betting games for Bitcoin owners to engage in. Outside of the familiar casino games, cryptocurrency users can also place bets on different sporting events around the world. This gambling attraction may seem simple to new players. However, sports betting can be a complex activity due to the different types of betting odds.
Players will see different kinds of betting odds offered in Bitcoin sports betting sites. Of those, two types are mostly used. These are the money line wager and the point spread wager. Sporting events like football and basketball are just two sports that come with these types of Bitcoin sports betting odds.
Money line wager
This type of wager is used to bet on who is going to win the competition. Money line wager is mostly used on sports that do not have much of a point spread such as hockey and baseball. It is also available in sportsbooks like Bovada and Bodog.
In this type of wager, one competing team has a negative symbol next to a number while the other team has a positive symbol. A negative symbol indicates a favored team, while a positive one is given to an underdog team.
To illustrate how this wager works, imagine 100 mBTC is placed between the two teams. Favored teams are at -170 while the underdogs are at +150. If a bettor wants to bet on the favored team and take home 100 mBTC, they need to bet 170 mBTC.
Players who bet on a favored team need to risk more because they are more likely to win. Those who side with the underdogs are able to wage only 100 mBTC and get 150 mBTC if their team wins. Their risk is low because the chances for this team to win are less likely.
Those who look for money lines should place bets on NFL matches using Bitcoin.
Point spread wager
Point spread bets is the most common type of sports betting odds. It is normally used for basketball betting and is available for those betting on the NBA games with Bitcoin.
The main factor used for this wager is the gap between the two team's final points. Much like the money line wager, there is a favored team with a negative sign beside their name and an underdog team with a positive sign.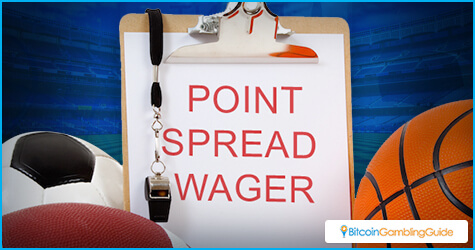 If the favored team is able to win with the same amount of points or more as predicted, players who bet on this team wins. Should the favored team win with fewer points as predicted or lose to the other team, those who bet on the underdogs wins.
The risks are even on both of the team where players wager the same amount on any of them. For point spread wager, there is an additional payment added on top of the wager. If the odds for both teams are -110, players need to bet 110 mBTC in order to get 100 mBTC. The additional 10 mBTC is for the casino or booking site to keep.
These are just two of many other sports betting odds offered to Bitcoin owners. Players should understand how these betting odds work to maximize their chances of winning in almost all bets.