Affiliate marketing is an effective tool when it comes to promoting online casinos. Gamblers, after all, are a lot more trusting when it comes to personal recommendations and testimonies, but can be a bit suspicious of press releases and advertisements. Affiliate marketing partners do their best to promote their brands by doing the soft-sell approach.
However, affiliate marketing is not all about indirect marketing. Affiliate marketers need to be able to show off products and services that can deliver on their promise. This is the reason it is also important for them to sign up with great online affiliate programs that represent some of the best online casinos out there.
Betting Partners
The Betting Partners Network is an impressive affiliate network that has several of the most popular online casinos on its program. This includes Bovada, Bodog, Ignition Casino, and more. All of these casinos can assure client conversion with the excellent gaming experience that they can deliver.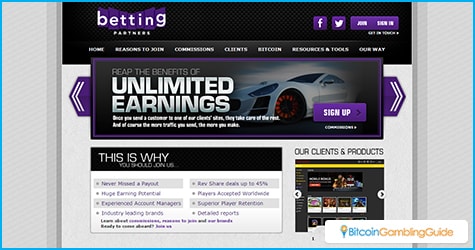 The key to affiliate marketing is that the network should be able to convert visitors into regular players, giving its affiliate agents a regular revenue stream. With the games and excellent sites of the Betting Partners network, agents can be sure that they will be seeing a decent amount of profit in Bitcoin.
It is not just the conversion factor. Affiliate networks should be able to have a good relationship with their affiliates. This is done by providing them with decent support and Betting Partners does that by giving affiliates access to pre-made banners and ads, along with hard data on demographics. They also provide on-call support from dedicated account managers who know how to improve affiliate marketing efforts.
Ace Revenue
Another example of a great affiliate network, Ace Revenue has several online casinos working with it. The list includes five partner casinos: Planet 7 Casino, Captain Jack Casino, Silver Oak Casino, Slot madness Online Casino, and Royal Ace Casino.
Like every other successful affiliate program, the Ace Revenue network focuses on the win-win approach. This nabs that they aim for their affiliates to benefit just as much as the network does. It does this by providing as much support as possible, while also setting realistic goals and increasing revenue.
Ace Revenue affiliates receive high compensation rates at around 35 percent to 40 percent. They also implement a "No negative earning" policy, ensuring that affiliates having a bad month will not lose any money.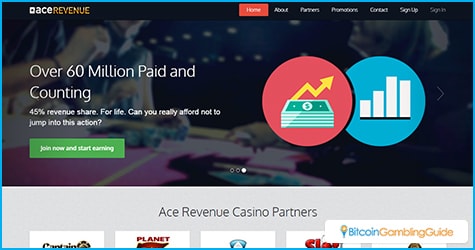 Winning Poker Network Affiliates
Finally, the Winning Poker Network Affiliates is a fine example of an affiliate network that is focused on a single market: online poker. With noted products like Americas Cardroom and YaPoker, WPN Affiliates can be sure to get dedicated poker fans to keep playing.
In addition to the network's efforts to keep affiliates happy, it also offers cross-site tournaments to further increase player recruitment and retention. It also promotes innovative tournament formats like Sit &Go and promotions that will be attractive to any player. On top of these, Affiliates will also get full support and personalized service to better ensure better performance.
Its recent jump to pay out Bitcoin commissions marks the company's commitment to provide competitive services adaptive to the latest market trends. Moreover, it ensures quick commission payouts.