Sports betting with BTC is big business and millions of dollars' worth of Bitcoin is wagered every month on a wide variety of sporting events. People love betting on their favorite teams, especially when they are poised to win a championship or when they are up against a rival.
Bitcoin allows for a lot of flexibility when it comes to betting and this has made Bitcoin wagers popular.  With easy international transactions and quick turn-around times, a bettor from anywhere in the world can place money on whether their favored team is going to win and be assured that they will get their winnings.
Furthermore, with Bitcoin, live betting can now be done online, with no worries about delays or something similar. Here is a brief survey of some of the most popular sports for BTC sports betting nowadays.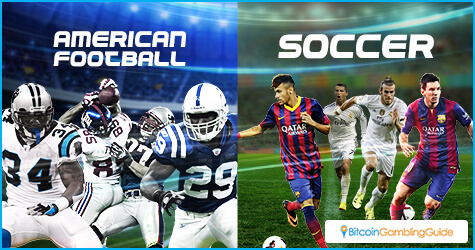 American football
American football is one of the favorite games in the US. The lure of gridiron has enchanted US sports fans for years now and this has translated into a lot of people wagering on matches. The US football scene is divided into two divisions. There is the professional league of the NFL, which has everyone tuning in to watch, while the college football league of the NCAA gives football lovers even more football to enjoy.
Sportsbooks often cover both leagues. The big business right now for sports gambling is not actually sportsbooks, but daily fantasy sports. However, people who place straight bets on match results are still big business. Besides normal sports bets, there are in-play bets where the match is streamed to players and wagers can be placed during the stream.
Soccer
On the other side of the Atlantic, it is another type of "football" that entrances people. Soccer or football dominates the European sports betting market. With several leagues ranging from the English Premier League to the international Euro League, soccer fans have a lot of matches that they can wager on.
The rotating schedule also allows for continuous soccer action, which ensures that there is no down season for betting. Bitcoin allows soccer fans worldwide to bet on their favorite teams and even participate in proposition bets on the various sports sites.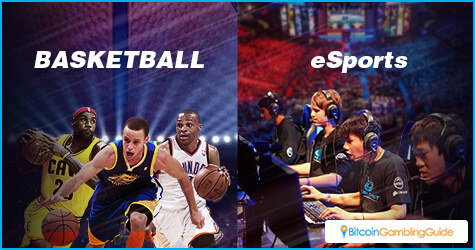 Basketball
For a true international sports betting experience, though, people should turn their attention to basketball. The NBA is a worldwide phenomenon and people from different countries are fans of the game. This also means that betting on NBA results is found internationally. Bitcoin sportsbooks make it easy for people to participate in the wagering. The bets reach a fever pitch during the playoffs, when the NBA is determined.
eSports
A new entry into the sports betting world, eSports is an online phenomenon that has exploded in recent years. Analysts project that the eSports industry will generate a billion dollars in revenue by 2020, with sports betting being a significant part of the pie. eSports competitions in games like StarCraft 2 and Dota 2 are poised to dominate in the coming years. People can expect eSports to give more physical sports a run for their money.
---
These sports make Bitcoin sports betting more attractive, and the leading Bitcoin sportsbooks come equipped with the best odds to entice bettors. Nitrogen Sports is among the highest-rated Bitcoin sportsbooks that cover these four popular sports today. Players who wish to get started in betting on sports can place bets on this site or explore other BTC sports betting sites in the market.