With a year of operation under its belt, 4Grinz Bitcoin Casino has become one of the more popular names in Bitcoin gambling. With its recent switch to SoftSwiss this year, the fast growth is the result of its generosity with bonuses and the many gambling options that it offers players. As an excellent example of this generosity is its Coin Back program.
Coin Back is key Bitcoin casino feature
One of the bonus programs that 4Grinz can take great pride in is the popular Coin Back program. It gives players a chance to get back a minimum 10-percent return in bitcoins on their losses. The Coin Back program is based on the use of Grinz Points. Players receive them as they wager at the various games on the 4Grinz site.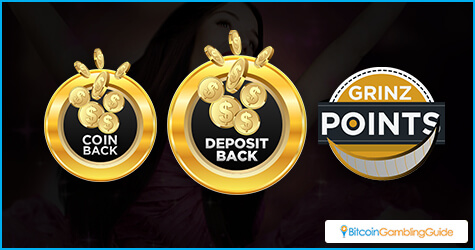 4Grinz players can use these Grinz Points for two purposes. One way is to keep on accumulating these points. The amount they have kept can determine whether they qualify for the Premium Membership, Joy Luck Club, or VIP. The other purpose of Grinz Points is that they can be redeemed for free spins, gifts, and bitcoins.
All of it is automated and players can easily keep track of their Grinz points. Each Coin Back period begins Thursday at 00:01 and ends 00:00 the next Thursday, with the Coin Back paid on the next Friday. There is no limit to how often a player can receive this bonus.
The minimum membership level one must achieve to get a Coin Back is the Premium Member. 4Grinz Premium Members can get 10-percent Coin Back each week. Joy Luck Club members get more at 15 percent Coin Back each week, while VIPs automatically qualify for 20-percent Coin Back weekly.
Although tracking the points is automatic, 4Grinz members must request a Coin Back by midnight Thursday for each Coin Back period played. This is done by emailing 4Grinz support or visiting the 24/7 live chat. Past Coin Back offers cannot be redeemed but players should still attempt not to miss any of them.
Player-friendly bonuses on board
It is not just the Coin Back program that 4Grinz players will enjoy. There is also the Deposit Back program. Players can get back some of the money they deposited when players make a deposit on promotional days, if they are also qualified for the Coin Back program. This happens whether they win or lose.
All that players need to do is to play the value of the deposit three times and make a request through the operator. 4Grinz Premium Members qualify for a 10-percent Deposit Back each Monday deposit up to 1BTC, while Joy Luck Club members qualify for 10-percent Deposit Back on deposits on Thursdays and Mondays. VIPs get the most days, receiving 10 Deposit Back on Mondays, Thursdays, and on exclusive VIP promotional days. The only restrictions are the blackjack and roulette games, which do not count toward the Deposit Back wagering requirements.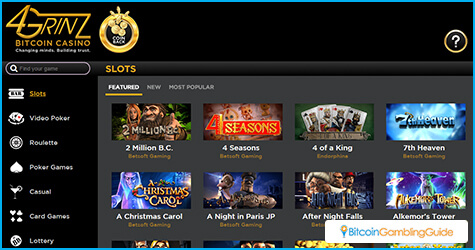 4Grinz pushes forward
The 4Grinz Coin Back and Deposit Back promos are just icing on the cake. With hundreds of games in its library—with the recently added GameART games—4Grinz can keep people entertained for a long time. Starting with simple slot games, online gamblers can also enjoy table games and even live dealer games at the online casino. This is as good a time as any to visit the site and have fun.
4Grinz Casino even makes playing at the casino more attractive as it satisfies all the criteria that Bitcoin Gambling Guide uses to determine the best brands on the market. In return, it earns the BitcoinGG Certificate of Trust, which validates the casino's security and quality gambling support and services.
BitcoinGG welcomes all players to head over to the Bitcoin casino and see for themselves how 4Grinz manages to deliver on-point services made better by its amazing list of Bitcoin casino bonus deals and promotions.