For online gamblers, one of the biggest concerns is how to keep their bankroll in the black. Gambling is an expensive pastime and it can be hard to find funds. One of the better ways to get funds for gambling is to become part of a casino's affiliate program.
Affiliate programs are marketing tools in which an affiliate promises to promote a certain product or service in exchange for payment. The money that an affiliate can earn depends on how their commission is calculated. This can range from pay-per-click to pay-per-lead. There are even more exotic systems, depending on the program.
For people interested in becoming affiliates, they will want to know the various differences between each program. This is to ensure that they know what they are getting into. Here is a simple primer on some of the more popular affiliate programs out there.
Application process
Signing up for an affiliate program can be pretty simple for some programs. Betcoin.ag has players create an account on the website. It will just take a few minutes for the signup since all people have to give is a username, password, and email address.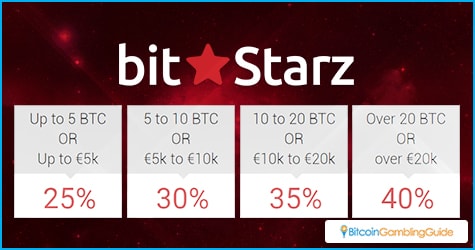 This setup is similar to the one that BitStarz and mBit Casino have. VitalBet is a lot more stringent. It asks for more personal details to ensure that the affiliate is legitimate, while Fortunejack affiliates have it easy. The moment players sign up for an account, they can become affiliates with a click of a button.
Support
The basic idea of any affiliate program is the fact that affiliates have to refer people to the site. It could be simple enough for some people to refer via word-of-mouth; however, affiliates advertising without any support will have a hard time getting any results. People looking for an affiliate program should take a look at how much support they give their affiliates.
For example, the Betcoin affiliate program provides affiliates with custom banners to help advertise while also providing comprehensive data that affiliates can use to tailor their advertising campaign to the market. VitalBet and FortuneJack do something similar, providing their affiliates with simple-to-integrate creative material so that websites and links can have official banners and ads. BitStarz follow the same path, but also provides even more in-depth data by giving affiliates regular news and access to their statistics. With its attractive game library, BitStarz should be a winner among the players.
Payments
The most important element that affiliates will want to know about is the payment system. Different casinos have different ways to calculate their commission and how they pay out. For example, Betcoin and mBit Casino have five commission tiers going up to 50 percent if the people that the affiliate referred wagered 75 BTC or more in total for the month.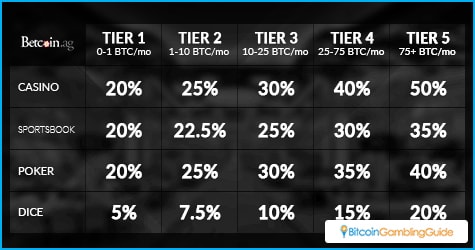 Fortunejack is less generous with a maximum of 40 percent if the total wagered was at least 80 BTC. Bitstarz is more competitive with 40 percent for a total of over 20 BTC. VitalBet looks at the number of players and the amount wagered with a maximum of 40 percent for 16 or more players with a minimum of $50,000 worth in bets. Payouts are usually once a month, and the commission is directly paid into the affiliate's casino account.
Affiliate marketing can be extremely profitable if done right and with the right partners. Affiliates need to make the best choice among the affiliate options to maximize earnings.