On Dec. 20, 2014 former CEO of BitInstant and Bitcoin Foundation board member Charles Shrem was sentenced to a jail term not exceeding two years. This is for facilitating money transmitting services that were not legal on the defunct Silk Road website.
He was accused of, and did plead guilty to, helping a Mr. Robert M. Faiella in operating a Bitcoin exchange in the infamous online marketplace under the alias 'BTCKing'. Jointly they helped buyers acquire bitcoins, given that it was the only currency acceptable on the platform.
The website has since been brought down by the FBI.
Associating Bitcoin with Silk Road is always disturbing to enthusiasts
Of course, these accusations were not only serious but also damaging to the Bitcoin community. It is safe to state that the majority of Bitcoin enthusiasts agree that this was a mistake that ought not to have happened especially since it involves a person of Shrem's stature.
But while Silk Road is dead and Charlie Shrem and his co-accused, Robert M. Faiella, are facing disciplinary actions, there is every reason Bitcoin gambling players should step back and ask themselves what this development portends for the industry.
The case should make a lot of sense especially to bettors based in the US, playing in a Bitcoin casino, poker room, or sports betting site.
In order to wrap your mind around the idea of a link between the Charlie Shrem case and Bitcoin gambling, you need to appreciate that the latter is not in the good books of the American authorities.
In 2006, the Unlawful Internet Gambling Enforcement Act (UIGEA) was enacted. It is the law that the Justice Department used to shut down gambling websites operating from the US and fine those outside the US that facilitates Americans in gambling online.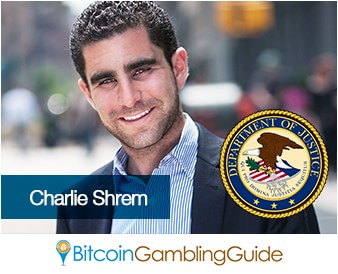 It is farfetched, but a gambling charge could be used against exchanges
Apart from the danger of exposing many people to gambling and difficulty in ascertaining the age of those placing bets, one other reason that was cited is being a conduit for money laundering.
Therefore, it is arguable that any entity enabling Americans to acquire bitcoins with which to use for gambling online is not standing very far from where Charles Shrem was standing between 2011 and 2013.
The only difference being that so far no one has argued satisfactorily to the effect that online gambling deserves being listed as illegal. Those who engage in it do not infringe on the rights of anyone. Furthermore, gambling offline is legal in the US.
The other reprieve is that most Bitcoin exchanges are not out there to serve online gamblers only. Therefore, even if authorities do get evidence that individuals are buying bitcoins to gamble on the web, it will be unfair to conclude that such entities are involved in illegal activities.
All said and done, the Charles Shrem and Robert M. Faiella case is one that players in the Bitcoin gambling space, especially those based in the US, will look at with a keen eye.