Three years in the Bitcoin gambling market is already an achievement. The oldest Bitcoin sportsbook and casino is celebrating this milestone early on by launching new offerings and additions to its ever-expanding catalog of Bitcoin betting services.
Bitcoin-powered Anonibet, which debuted in the online gaming industry back in 2011, is set to prove to its competitors once more  that it remains to be among the top choices for Bitcoin sports betting and casino gaming as it turns a year older this December.
To share with its loyal customers the fruits of its labor, Anonibet confidently launched its latest promotion by awarding instant bonuses to every player who places a deposit. The exclusive Deposit Bonus promotion gives players a 10% deposit bonus every time they fund their account.
Unlike the usual deposit bonuses, however, this offering has no expiry date; therefore, the Bitcoin bonus will remain in the player's account as long as it has not been used and lost. Bettors must be advised that the bonus already transferred into the account will be used first in the bets instead of the deposited bitcoins.
Moreover, withdrawing the winnings from the bonuses will only be allowed once the player's gambling activity satisfies the terms and requirements that come along with the bonus offering.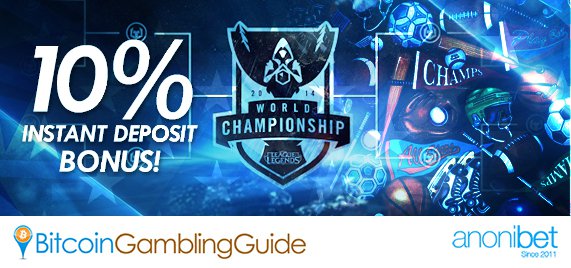 Aside from the instant deposit bonus, Anonibet has also recently unveiled new additions to its Bitcoin sports betting services.
Due to the wide popularity of e-sports, this Bitcoin sportsbook and casino finally enables bettors to place bets on any of the online gaming sports like the League of Legends World Championship Season 4. Also catering to the eSports and Bitcoin communities is Leetcoin Bitcoin eSports site, which allows players to play League of Legends, Counter-strike: GO, and Team Fortress 2 . In addition, the catalog of sporting events on this platform welcomes a couple of minority sports like Floorball and Bowls.
With more Bitcoin sports betting services delivered to every online gambling aficionado across the globe on top of the exclusive bonus giveaway, the pioneering Bitcoin sportsbook and casino further emphasized its true strength and potential in the Bitcoin gambling market and in the online gaming industry.