It is not exactly like the luck-based games of flipcoin Bitcoin.Upon hearing the word apophenia, it is highly unlikely that it would be a name used for a Bitcoin gambling brand—but it is. Apophenia is an online gambling brand that allows players to play its game by directly betting bitcoins to solve and identify the blurred and distorted pictures.
Konstantinos Asimakis is the owner of this unique Bitcoin gambling site, and he is accommodating enough to share his thoughts and plans with Bitcoin Gambling Guide.
Apophenia. Could you tell me more about it?
Apophenia is a game of skill, luck and strategy. You need to be able to imagine what the picture shows (skill), you need to estimate how probable it is that you know the answer and bet at the right time the right number of times (strategy) and finally you need some luck in all of the above. The luck you need is the inherent luck needed in almost all knowledge based games (think trivia-pursuit).
When did Apophenia start and who created its software?
The website opened to the public around 9 Apr 2013. It's custom made by me, written in PHP including a custom payment system.
What is the difference of Apophenia from the other Bitcoin gambling brands?
The biggest difference between it and other games is that it's mostly based on skill. It's a unique concept, and I don't think that there is another game that gets close to its concept, not even outside the cryptocurrency scene.
Does Apophenia work on different platforms like mobile, web, and desktop?
The website is usable on modern smartphones although there is no special mobile version. There is no downloadable client was designed as a web-based game. There were plans to make a Chrome extension or app for it but Google's ToS forbid it.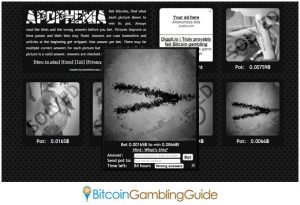 What are your views on the rise of Bitcoin casino and gambling sites and of Bitcoin in general?
I really like what we get from people who are creating casinos that utilize cryptocurrencies. It allows them to avoid regulations and create freely. Also since players don't have someone to vouch on the trustworthiness of these casinos (like the state does for real casinos) those crypto-casinos actually came up with ways to prove that they are playing fair, beating any kind of state assurance. Think about it: individuals made something that costs basically nothing and yet is infinitely fairer than what the state could offer through all the costly verification procedures that normal casinos have to follow.
In your opinion, how much will the cryptocurrency affect our lives in the future?
I hope and believe that cryptocurrencies will completely replace fiat money at some point in the future.  I can't tell whether this will be through an ever-expanding black market or by legally accepting cryptocurrencies and the fact that it's hard to tax them. Whatever the case, I don't see cryptocurrencies ever going away.
When it comes to handling the business, what are the challenges you have or continue to face?
The biggest challenge is attracting people to it: spending money on ads etc at the right time in the right places. Other than that it's way easier than running any sort of business. I just lack marketing skills
Apophenia has come a long way. What are your plans for it?
I will mostly focus on marketing the website to players. This could mean I'd have to attract a knowledgeable partner in the project. Development-wise I expect to roll out a couple of translations for the website soon.
I certainly hope you achieve these goals. Thank you very much for this privilege!