Minesweeper's influence is still prevalent today, even decades after it was first developed and presented by Microsoft back in 1989. This game has captivated users from all generations, ant this is strongly evident through the rising numbers of Bitcoin casinos that are transforming this game into a Bitcoin gambling game.
However, since Bitcoin casinos have conducted several revamps on the original Minesweeper format, online gamblers are unlikely to experience the authenticity of its game style.
Fortunately, CryptoGames.io Bitcoin casino, has effectively kept the core features of Minesweeper while upgrading other details for the game to complement the crypto-powered platform.
Considering that several Bitcoin gambling platforms have Minesweeper games, the exclusive features offered by this casino are reasons enough for bettors play the CryptoGames Minesweeper over the other variations on other Bitcoin gambling sites.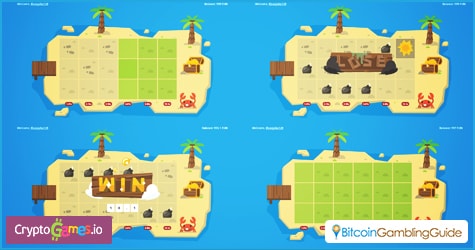 Authentic Minesweeper game with a touch of Bitcoin
Of course, the best feature this Bitcoin game has is that CryptoGames.io retained the main goal of the game that is essentially similar to that of the original Microsoft version.
As such, players must have to cross the field without landing on any of the mine-infested tile in order to win a round. Once the player has made it through the field, Bitcoin rewards will be given.
Other than sporting the same goal, CryptoGames.io has structured its Minesweeper game to look analogous to the original version. Therefore, Bitcoin gamblers are still able to experience a genuine Minesweeper game in this platform.
Upgrades that make CryptoGames Minesweeper more exciting
On another note, CryptoGames has also made various modifications to its Minesweeper game in order to provide Bitcoin gamblers with a fresh and unique gaming experience.
Instead of the original gray tile design, CryptoGames.io has added cartoon details like pirates, crabs, and other beach-related items to add a more enjoyable vibe to the game.
Moreover, CryptoGames's version allows bettors to earn BTC rewards while they are on the game. Each column in the field yields a certain BTC multiplier that adds winnings to the current wager of the player. This means that the more tiles the players have covered, the more BTC prizes they will be earning.
In addition, Minesweeper on CryptoGames.io can be played in two options: Play for Fun and Play for Real. For newbie Bitcoin players, Play for Fun allows them to test and learn more about the game without risking too much on their end.
On the other hand, Play for Real allows gamblers to earn real bitcoins in exchange of betting using their BTC funds instead of the virtual money issued by CryptoGames.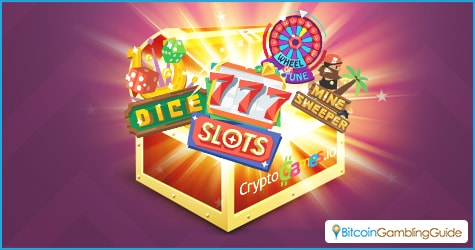 Other special features on CryptoGames.io
CryptoGames is not all about Minesweeper. This platform is also home to three special games that deliver the same amount of thrills and lucrative rewards.
As such, Bitcoin gamblers can check out the CryptoGames Wheel of Fortune, Bitcoin dice, and its exclusive Bitcoin slot called 777 Slots.
All of these games, including Minesweeper, boast high-caliber graphics certain to entertain and relax players. To top it all off, these games are equipped with the provably fair feature that assures the transparency and legitimacy of every game result.
Ultimately, CryptoGames.io only has a one-percent house edge to guarantee its players that they will be getting almost the entirety of their hard-earned bitcoins. This adds to the overall reliability of the platform since house edge rates are vital selling points among Bitcoin casino and gambling sites.