Established in 2010, BC Casino is considered to be the oldest yet fully operational online casino dedicated for Bitcoin. After years of being in the market, this Bitcoin casino is still applauded because of its games, features, and services that are exceptional, especially during its early years.
Notwithstanding its five-year tenure in online gambling, BC Casino still makes a buzz with its unwavering dedication to provide authentic Bitcoin gambling. It successfully does this through its partnership with a leading software provider in the industry, Playtech.
Vast game choices and bountiful bonuses at hand
Through Playtech, BC Casino comes up with an aesthetically pleasing platform that can still go on par with most of the newer casinos. Its game library has one of the most impressive selections even until now. Compared to the majority of older platforms that usually own two to five casino games, this casino has over 100 well-known games in categories like Bitcoin slots, table games, and video poker.
To top it all off, this casino is home to the Marvel-themed Bitcoin slots that online casino goers still enjoy even today. In addition, the Bitcoin games on BC Casino are designed for both download and flash versions.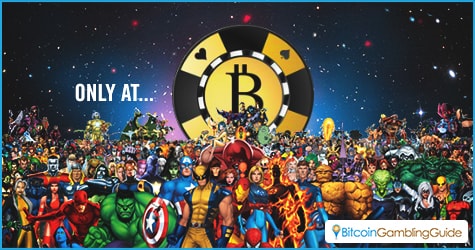 On another note, BC Casino bonuses are also popular for being among the first Bitcoin-dedicated bonuses, which are essentially rare during its time.
BC Casino showers its members with a 20-percent deposit bonus for each time they load their account with more Bitcoin. Long-staying and returning players are also rewarded with lucrative cashbacks that can be used to bring their winning streak up a notch.
Moreover, this casino grants its members a one-of-a-kind opportunity through its fully automated affiliate program. Just by inviting their peers to play on BC Casino, they are given extra BTC credits, which can further amplify their current bankroll.
Showcasing Bitcoin's prowess since 2010
Another major factor that keeps BC Casino strong regardless of its age is the fact that it is one of the major contributors that pushed for a full-scale Bitcoin awareness.
Considering that Bitcoin is still in its flourishing stage in 2010, this Bitcoin casino has showcased the advantages that Bitcoin may bring through its gambling services. One of which is the anonymity of Bitcoin users, which is reflected in this casino through the anonymous accounts that skip the sensitive and personal information.
Ultimately, BC Casino is among the first to publicize the benefits of Bitcoin as a payment system, and this is done through its fund management.
Bitcoin users in general are given a more vivid picture on how instantaneous Bitcoin deposits and withdrawals are. Also, they are able to experience hassle-free worldwide transfers since BC Casino allows gamblers from all around the world to play on their platform just by using Bitcoin.
BC Casino has been a vital component to the overall success of the Bitcoin ecosystem. Not only it embodied the first set of Bitcoin-dedicated gambling platforms, it also represented the advantageous capabilities of Bitcoin transactions for the mainstream market.